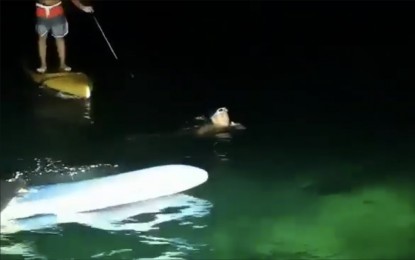 LAPU-LAPU CITY, Cebu – Open water swimmer Cleevan Alegres has successfully circumnavigated the island of Olango, a separate islet located east of Mactan Island.
Mayor Junard Chan on Monday said 25-year-old Alegres completed the full swim around Olango in 12 hours. The distance was estimated at 19-21 kilometers.
"He started his swim around 3:30 p.m. on Sunday from Barangay Sta. Rosa circumnavigating the whole island and he went back to where he started at 3:30 a.m. today," Chan said in a social media post.
The mayor described this as a major feat for Alegres as this was a key preparation for the Lapu-Lapu City native in his attempt to make a historic 42-kilometer swim around Mactan Island on April 24.
According to Chan, Alegres wants to give honor to Cebuano hero Datu Lapulapu, in line with the 500th anniversary of the Battle of Mactan.
The swimmer also wants to raise awareness on the importance of cleaning the environment, particularly the sea.
Chan expressed his continued support to the Cebuano swimmer and hoped for the latter's continued success. (PNA)