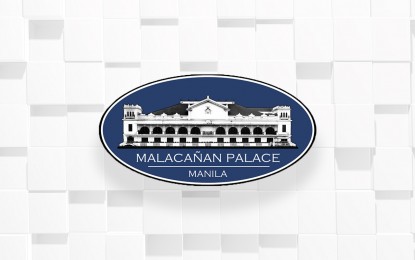 MANILA – President Rodrigo Duterte is standing by the strong statement made by Defense Secretary Delfin Lorenzana demanding the immediate departure of the remaining 44 Chinese vessels from the Julian Felipe Reef in the West Philippine Sea, Malacañang said Monday.
Lorenzana on Saturday told the remaining 44 Chinese vessels to leave, saying they had no more reason to take shelter there since the weather has cleared.
In response, the Chinese Embassy in Manila called Lorenzana's remark "unprofessional", maintaining its historical claim over the feature which is within the Philippines' exclusive economic zone (EEZ).
"Of course, the President stands by the statements of our Secretary of Defense," Presidential Spokesperson Harry Roque said in an interview over CNN Philippines.
Roque, however, pointed out that the presence of Chinese ships in the area would not lead to war.
"I hasten to add that the President has been clear that this is not an issue that will lead to war between friendly nations. We are hoping that our friendly relations will soon resolve this latest impasse," he added.
In a Palace press briefing aired over PTV-4, Roque cited Duterte's speech during the United Nations General Assembly (UNGA) in September 2020 where the latter affirmed the Permanent Court of Arbitration's (PCA) ruling in favor of the Philippines' arbitration case against China's expansive maritime claims in the disputed sea.
"Hindi po nagbabago ang posisyon ng ating Presidente. Eto po yung kanyang nabanggit na salita sa UN General Assembly. Hindi po natin isasakripisyo, hindi natin ipamimigay ang ating national territory at ang ating mga exclusive economic zone (The President's position has not changed. He mentioned this during his speech at the UN General Assembly. We will not sacrifice or give away our national territory and EEZ)," he said.
Roque said Duterte also believes that friendly relations between the Philippines and China will result in the peaceful resolution of this impasse.
"Ang posisyon po ng Presidente, paninindigan natin ang ating karapatan pero hindi po to isang bagay para tayo po ay gumamit ng dahas. Kampante po ang ating Presidente na dahil nga po mero tayong malapit na pagkakaibigan mareresolba ang hidwaan na 'to (The President's position is that we will fight for our rights, but this is no reason for us to use force. Our President is confident that our strong ties would resolve this impasse)," he added.
He also reiterated support for Lorenza's demand for Chinese vessels to leave the Julian Felipe Reef.
"I think Secretary Lorenzana was correct in pointing out that we consider that area as part also of Philippine territory and exclusive economic zone," he said.
'Sovereignty non-negotiable'
In a separate statement, Chief Presidential Legal Counsel Salvador Panelo expressed opposition over the "unjustified stay" of Chinese vessels at the Julian Felipe Reef, saying it could result in "unwanted hostilities" between the two countries.
"While we recognize the historical and cultural ties with China that have evolved into a productive relationship, its present territorial incursions is producing an unwelcome stain in their bond and may trigger unwanted hostilities that both countries would rather not pursue, as destructiveness consequences are not only undesirable, they are abhorrent as well and anathema to the peace of the region," Panelo said.
Panelo insisted that the country's sovereignty is "non-negotiable" despite the Philippines' improved ties with China.
"Let it be clear to all countries of the world that are protective of their own sovereignties. Like them, we are fiercely protective of ours. We can negotiate on matters of mutual concern and benefit, but make no mistake about it -- our sovereignty is non-negotiable," he added.
He said the matter of territorial dispute has to be resolved in the "diplomatic negotiating table or by the dictates of international law."
The National Task Force for the West Philippine Sea earlier expressed concern over a Philippine Coast Guard report that about 220 Chinese fishing vessels, believed to be manned by Chinese maritime militia personnel, were sighted in line formation at the Julian Felipe Reef on March 7.
The reef is located approximately 175 nautical miles west of Bataraza, Palawan.
The Department of Foreign Affairs expressed support over the DND's demand for the remaining Chinese ships' withdrawal from the Julian Felipe Reef.
"[T]he Philippines' position on this continued Chinese presence in the WPS has been unequivocal, as articulated by the recent statement of the National Task Force for the West Philippine Sea and the statement today by the Department of National Defense," the DFA said.
On March 21, the Philippines filed a diplomatic protest over the presence of around 200 Chinese ships at the Julian Felipe Reef.
The DFA on Monday "strongly" denounced the Chinese embassy's "unprofessional" comment against Lorenzana.
"The DFA strongly denounces the Embassy's attempt to impugn the Secretary of National Defense -- a Cabinet official of the Republic of the Philippines -- by calling his statement 'unprofessional,'" the DFA said in a statement. (PNA)