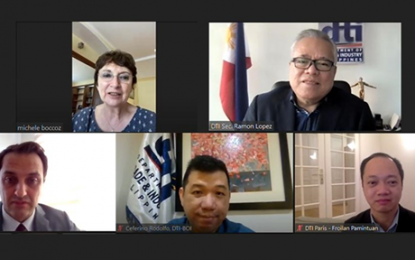 MANILA – The Philippines and France will hold the 9th Joint Economic Commission (JEC) meeting in the second quarter of this year, the Department of Trade and Industry (DTI) said in a statement Monday.
DTI Secretary Ramon Lopez and newly-appointed French Ambassador to the Philippines Michèle Boccoz had a meeting on March 31 where they discussed strengthening economic ties between the two countries.
"The two sides talked about further exploring trade and investment deals in aerospace, electronics, shipbuilding, clean energy, agribusiness, and healthcare, among others. Possible cooperation on these areas is expected to be discussed in the forthcoming 9th Philippines-France Joint Economic Commission, which is scheduled in the latter part of the second quarter this year," the DTI said.
This will be a follow up to the last JEC meeting held here in June 2019.
The Philippines-France JEC was established in 1994.
During the virtual courtesy call of Boccoz to Lopez, the trade chief urged French companies to continue exploring trade and investment opportunities in the country under the Make It Happen in the Philippines campaign.
Under this campaign, the DTI is promoting investments in aerospace, automotive, copper, information technology and business process management, and electronics sectors.
Lopez also encouraged France to take advantage of the country's free trade agreement (FTA) network such as the Association of Southeast Asian Nations and the Regional Comprehensive Economic Partnership.
He added that the Philippines also aims to join the Comprehensive and Progressive Trans-Pacific Partnership (CPTPP) deal and is also working on an FTA with the European Union.
France is one of the top European investors in the Philippines in 2020. (PNA)