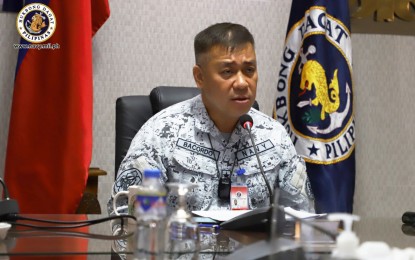 MANILA – The Philippine Navy (PN) will deploy next year its fast attack interdiction craft-missile (FAIC-Ms) off the waters of Mindanao to help in operations against communist terrorist groups.
"The FAIC-M will be deployed initially in the Mindanao AORs (area-of-responsibility) where there is continuous operations against LTGs (local terrorist groups) and CTGs (communist terrorist groups) These platforms are best suited operating in these environments to act as effective deterrent not only against the terrorist groups but also against other lawless elements operating in the littoral areas," PN chief Vice Admiral Giovanni Carlo Bacordo said in response to the Philippine News Agency's on Monday night when asked where these naval craft will be deployed once delivered next year.
The FAIC-M project (also known as the Shaldag Mark 5) was already issued a Notice of Award (NOA) by the Department of National Defense (DND) last January 4.
"These individuals involved in piracy, smuggling, and human trafficking, among others, use fast boats and go from island to island in order to evade our maritime law enforcers. With the FAIC-Ms, the Navy can ensure that these criminal elements will be effectively neutralized and in the process provide a safe and secure maritime environment to our countrymen," Bacordo added.
The NOA was signed by DND Secretary Delfin Lorenzana as head of the procuring entity. The project, which consists of two lots, is worth around PHP10 billion.
Lot 1 consists of the acquisition of the naval platforms and the upgrade of the Cavite Naval Shipyard while Lot 2 is focused on the acquisition of the weapons system of these FAIC-Ms which include remotely-controlled gun and missile systems.
"Another milestone was achieved just recently which includes the successful negotiations for the Lot 1 (Platforms) & Lot 2 (Combat Systems and Missiles) of the Fast Attack Interdiction Craft-Missile (FAIC-M) Acquisition Project. This resulted in the provisions for an additional one unit with one set of remote combat weapon systems (on top of the programmed eight units FAIC-M) for the PN and an upgrade of the Naval Ship Yard - without additional cost to the government. Hence, the PN expects to obtain a total of nine missile-equipped FAIC(-Ms) in the coming years," Bacordo earlier said.
The FAIC-Ms is the replacement of the force of patrol killer medium (PKM) or medium-sized patrol craft, with deliveries expected to start in 2022.
Four of the FAIC-Ms will be armed with non-line-of-sight (NLOS) missiles with pinpoint accuracy and a range of 25 kilometers while the other four will be armed with machine guns and light automatic cannons.
With the FAIC-Ms, the PN shall have the capability to defend the key sea lines of communications (SLOCs), such as Mindoro, Balabac, Sibutu, and Basilan Straits against conventional threats.
While operating in restricted waters, the FAIC-Ms can interdict surface threats and launch NLOS missiles safely using the surrounding littoral areas as maneuver space and cover. (PNA)