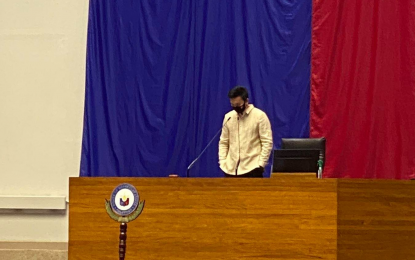 MANILA – Speaker Lord Allan Velasco on Tuesday said the House of Representatives would be willing to hold a special session to immediately pass the proposed Bayanihan to Arise As One Act or the Bayanihan 3.
Velasco said if President Rodrigo Duterte would certify the Bayanihan 3 bill, which seeks to provide another round of economic stimulus package worth PHP420 billion, as urgent, the lower chamber would comply.
He said the bill and other related measures are being studied by the House Committees on Economic Affairs and Social Services.
"By the time the measures are finished at the committee level, we would have resumed session in May. However, if Malacañang certifies the bill as urgent, we will comply," he said.
The bill proposes to allocate PHP108 billion for additional social amelioration to impacted households, PHP100 billion for capacity-building for impacted sectors, PHP52 billion for wage subsidies, PHP70 billion for capacity-building for agricultural producers, PHP30 billion for internet allowances to students and teachers, PHP30 billion for assistance to displaced workers, PHP25 billion for Covid-19 treatment and vaccines, and PHP5 billion for the rehabilitation of areas impacted by recent floods and typhoons.
Under the measure, each household member will receive PHP1,000 regardless of their economic status.
On top of this, a PHP1,000 allowance will be provided to each student and teacher and PHP8,000 for every displaced worker.
In the Senate, Minority Leader Franklin Drilon on Tuesday urged Duterte to call for a special session of Congress to swiftly pass the necessary measure that will give emergency cash subsidies to vulnerable households and beef up the government's dwindling pandemic war chest.
"I urge the President to call a special session of Congress to pass the proposed Bayanihan 3 and expand the government's cash subsidy program amid the spike in COVID-19 cases," Drilon said in a news release.
Drilon said the Senate is always prepared to hold a special session in order to pass legislation to alleviate the suffering of the poor. Congress is on a break until May 17.
Senator Panfilo Lacson, however, said lawmakers should first take a serious look at the situation since the Department of Budget and Management "already said that the government coffers have dried up."
"Hence funds are no longer available, the bigger question remains: Can we still afford more borrowings intended for dole-outs instead of for other productive purposes to boost our economy? The last thing we need is ending up in a 'Sisyphean' situation," Lacson said in a statement on Tuesday.
He said the best option is to have a sense of urgency and allow the private sector more participation with better flexibility in the vaccination program. (PNA)