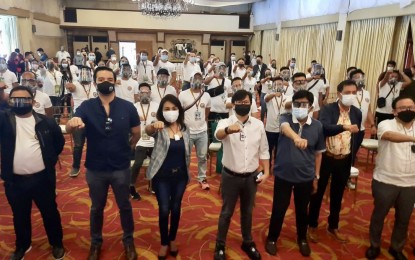 CEBU CITY – A total of 66 medical front-liners from Regions 7 and 8 were set to fly to Manila on Wednesday to respond to the call for volunteer healthcare workers (HCW) from other regions to help combat the latest surge of coronavirus disease 2019 (Covid-19) cases in the National Capital Region (NCR) and nearby provinces.
Secretary Michael Lloyd Dino of the Office of the Presidential Assistant for the Visayas (OPAV) who led the send-off ceremony, commended the first batch of volunteers who answered the call to augment medical workers in the "NCR Plus" who have been fighting Covid-19 for a year now.
Those who were sent off were 11 doctors, 35 nurses and four medical technologists from the Vicente Sotto Memorial Medical Center and others hired by the Department of Health (DOH)-Central Visayas.
Also, the DOH in Region 8 sent 15 nurses and one doctor, Dino said.
The contingent from Cebu was scheduled to leave for Manila on a 3 p.m. flight at the Mactan-Cebu International Airport.
The nurses will be stationed at the National Kidney and Transplant Institute, Lung Center of the Philippines, San Lazaro Hospital, Tondo Medical Center and Rizal Medical Center.
"Thank you for coming forward in this difficult time when our country and our people need you. I understand that your contracts are for three months, that's a considerable amount of time to be away from your families, to be away from home. But I tell you, more than the monetary benefits that you will get from this cause, is that feeling of fulfillment, pride and happiness that in the time of a national health emergency, you were there front and center serving your fellow Filipinos. This will be your story to the future generation," Dino told the front-liners during the send-off ceremony at the Montebello Villa Hotel.
He said while the country is expecting to beat coronavirus through the massive vaccine rollout, NCR, like many countries around the world, is experiencing a resurgence in cases.
He said after he confided to Senator Christopher Lawrence "Bong" Go the plan of OPAV, DOH-7 and private sector to send medical volunteers to Manila, "it was decided that the Visayas should render assistance to the now overwhelmed health care system in NCR Plus" which is now under enhanced community quarantine (ECQ).
He said Health Secretary Francisco Duque III issued a memo to DOH regional offices "directing them to respond to the call of Sen. Bong Go" to augment NCR's medical front-liners.
"OPAV, for its part, also called Visayas local chief executives and Malasakit hospitals to aid the efforts of the DOH. I'm also thankful to my friends in the private sector for responding to my call and rendering as much help as they can in making this effort come into fruition," Dino added.
He commended Project Balik Buhay (PBB) chairman Edmun Liu and co-chair Kenneth Cobonpue for assisting the government to assist the NCR Plus in combating Covid-19.
The PBB is also working with OPAV and the DOH-7 in the national vaccination program through its Visayas Vaccines Operations Center (VVOC) in Mandaue City.
Incentives for volunteers
The volunteer HCWs will work under a contract of service arrangement for three continuous months. Nurses will receive PHP33,575 under the Nurse I plantilla while doctors under Medical Officer III will each receive a basic pay of PHP60,901 per month.
Other benefits such as additional 20 percent premium of the basic salary, roundtrip travel expenses which would be shouldered by DOH-Regional Center for Health Development and PhilHealth premium contribution will also be given to the volunteers.
The positions are standard across the regions under emergency hiring based on Bayanihan II funds, OPAV said.
During the ceremony, however, Dino announced that PBB will give a monthly PHP5,000 additional incentive per volunteer on top of the basic pay.
Gov. Gwendolyn Garcia who attended the send-off ceremony also announced in her speech that the Cebu provincial capitol will give each volunteer HCW another PHP5,000 as monthly incentive along with vitamins and air purifier. She also promised to give them PHP10,000 each upon their return.
The city government will also give PHP10,000 per volunteer as their allowance, on top of the basic pay, Councilor Raymund Garcia said.
VVOC spokesperon Dr. Mary Jean Loreche told the Philippine News Agency that all 50 HCWs from Cebu have received their first dose of Covid-19 vaccine.
"They will get their second dose in NCR," she added.
Capable in handling Covid-19 cases
Dino said Central Visayas, especially Cebu, volunteered to send off medical personnel to NCR+ despite the continuing fight against Covid-19 in the city, because "our health system is very well capable of handling a possible spike".
"In fact, even at the height of our surge this year, our critical care utilization rate never went beyond 57 percent and the safety threshold is 70 percent. And now, our capacity utilization rate is just at 28 percent," he said.
"I would like to highlight our bravery and selflessness as Visayans, as we display the values of tapang at malasakit exemplified by President Duterte and Sen. Bong Go. Tapang, because you are our soldiers for this war, fighting an unseen enemy. And malasakit, because caring is your oath, and caring is your way of life," he added.
Garcia, meanwhile, said the secret of managing Covid-19 lies in hospital bed capacity.
"When you do not have enough Covid bed capacity, that is when you have the specter of tents overflowing emergency rooms and Facebook lamentations of those who have to wait outside and could no longer be treated," she said.
The Central Visayas region is also sending 100 vials of Remdesivir and 10 vials of Tocilizumab medicine for the Covid-19 patients in NCR, Dino said.
The DOH-7 is also sending blood and blood products, especially convalescent plasma units, for Covid-19 management.
"Aside from that, DOH-7, through Dr. Mary Jean Loreche, its chief pathologist and our VVOC spokesperson, has previously sent blood units due to scarcity of blood products in NCR+, another consequence of the resurgence," Dino said. (PNA)