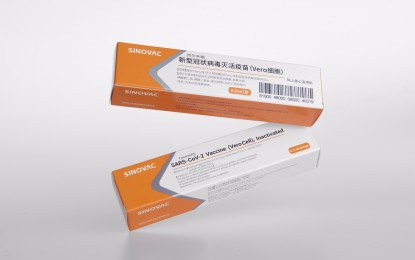 MANILA – The country's vaccine expert panel (VEP) has recommended the administration of the CoronaVac vaccine manufactured by China's Sinovac Biotech to individuals aged 60 and above, Malacañang announced Wednesday.
"We confirm that the Vaccine Expert Panel has recommended the use of Sinovac vaccine for the elderly/senior citizens," Presidential Spokesperson Harry Roque said in a press statement.
The recommendation came after the country's stockpile of coronavirus disease 2019 (Covid-19) vaccine jabs developed by British pharmaceutical giant AstraZeneca has run out.
Roque said the VEP had a thorough discussion before coming up with a recommendation to allow the use of Sinovac vaccines among senior citizens.
"The VEP thoroughly discussed the matter amid the current vaccine supply in the country and we hope that this would respond or address the present demand of vaccines," he said.
Results of clinical trials showed that the CoronaVac vaccine has a 91.2-percent efficacy rate among clinically healthy individuals aged 18 years to 59 years and a 50.4-percent efficacy rate among health care workers exposed to Covid-19.
In February, the Inter-Agency Task Force for the Management of Emerging Infectious Disease authorized the use of Sinovac vaccines among medical front-liners since the vaccine is proven "safe and beneficial to health care workers."
The Philippines has so far secured around 2 million Sinovac vaccines and some 525,600 AstraZeneca vaccines.
AstraZeneca has said its Covid-19 vaccine is 80 percent effective at preventing the disease among the elderly.
Duterte earlier approved the recommendation to administer AstraZeneca vaccines as the first dose to medical front-liners to provide them partial protection against Covid-19. (PNA)