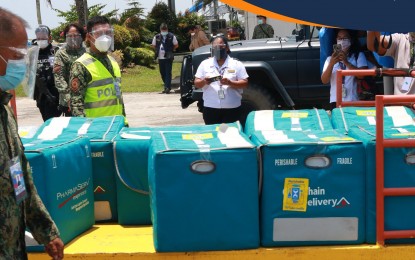 TACLOBAN CITY – At least 22,599 health workers in Eastern Visayas have received the coronavirus disease 2019 vaccines in the past four weeks, the Department of Health (DOH) reported on Thursday.
Of the number, 1,981 medical front-liners got two doses of vaccines as of April 7 or 28 days after getting the first shot, DOH Eastern Visayas regional information officer Jelyn Malibago said in a phone interview.
The region has 82,047 health workers in the public and private sector listed on the priority list for vaccination categorized as group A and group A1.
"We have to make sure that all in the priority list will get vaccines given their exposure. We will proceed with the immunization of senior citizens as we receive more vaccine supplies," Malibago told the Philippine News Agency (PNA).
On Wednesday, the health department here accepted an additional 14,400 doses of Sinovac vaccines intended for the remaining health workers who did not receive the immunization.
The latest batch of vaccines arrived at the city's airport to be given to medical front-liners who opted not to receive the shot during the initial rollout.
Since March 5, about 30,000 Sinovac and AstraZeneca vaccines for frontline workers in the national and local health facilities have been shipped to the region.
Meanwhile, the DOH regional office got the list of health workers and first responders qualified to receive the vaccines under the other priority group (A1) for encoding at the Vaccine Information Management System-Immunization Registry (VIMS-IR) of the Department of Information and Communications Technology.
Eligible for inclusion in the A1 list are all employees of provincial health offices and provincial DOH offices, regardless of employment status; Department of Education's health care workers assigned in health and nutrition sections; employees of disaster risk reduction management offices tasked to conduct swabbing, contact tracing, and emergency transport of patients; and social workers providing social amelioration and direct services to the public.
The DOH said the master list will make sure those on the priority list should receive the Covid-19 shots and no one will be jumping the prioritization line.
Still ongoing is the master listing of senior citizens and those with comorbidities — as the next priority for vaccination. (PNA)