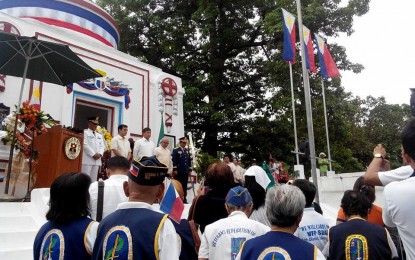 MANILA – Of the 151,824 Filipinos who fought during World War II, there are 2,952 who are still alive as of Thursday (April 8, 2021), with 279 over the century mark.
The oldest among them is Sgt. Malomalo Salag, born in 1909 and who turned 112 on Valentine's Day, according to the records of the Philippine Veterans Affairs Office (PVAO), headed by Defense Undersecretary Ernesto Carolina.
Nine other war veterans who are younger than Salag are Sergeants Alangadi O. Mauna, Monera P. Paday, and Macaalang P. Ditanto, all 111 years old; Concepcion B. De Guzman, 109; Rafaela A. Vicente and Mamangco P. Mangara, both 108; Martin M. Maguiwe, 107; and Pedro C. Torres and Jose S. Quilatan, Sr., both 106.
PVAO data also showed 2,635 veterans are 90 to 99 years old, while 38 others are aged between 80 and 89 years.
They continue to receive their monthly pension and free medical aid, according to PVAO.
The veterans were among those who witnessed the fall of Bataan on April 9, 1942. The province was the last stronghold of Filipino and American forces in the Philippines during the war. They surrendered to the Japanese, but not after a long and fierce battle that lasted over three months and until they ran short of ammunition, food, and medicine.
The Japanese thought they would conquer Bataan in a few days, but they were wrong.
"There was an atmosphere of chaos and pandemonium. It was hell!" retired Constabulary Col. Jose Agdamag Jr. recalled in his book, "150 Days of Hell", written in collaboration with his son, retired Navy Capt. Vicente Agdamag.
Filipino and American soldiers who escaped continued the fight all over the country until liberation came following the return of Gen. Douglas MacArthur on Oct. 20, 1944. (PNA)