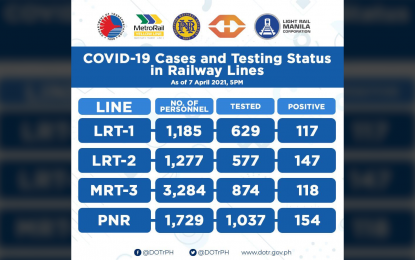 MANILA – A total of 3,117 rail workers, or 41.70 percent of all personnel working for the four rail services in the National Capital Region (NCR), have so far been tested for the coronavirus disease 2019 (Covid-19).
Based on an update from the Department of Transportation (DOTr) Thursday, the total is out of the 7,475 rail workers that will eventually be tested to ensure the safe operation of the Light Rail Transit Line 1 (LRT-1), Light Rail Transit Line 2 (LRT-2), Metro Rail Transit Line 3 (MRT-3), and the Philippine National Railways (PNR).
To date, 536 have tested positive for Covid-19, or 17.20 percent of all tested individuals.
Specifically, 629 out of the 1,185 workers of LRT-1 have been tested, with 117 found to be infected.
In LRT-2, some 577 out of 1,277 have been tested, with 147 returning positive with Covid-19.
In the MRT-3, around 874 out of its 3,284 workers have been tested, with 118 infected.
And in the PNR, 1,037 out of 1,729 have been tested, with 154 infected.
To date, the LRT-1, LRT-2, and MRT-3 are operating under limited capacity -- with LRT-1 deploying 17 trains, LRT-2 with five trains, and the MRT-3 with 10 to 12 trains.
"Meanwhile, the PNR will resume operations on Friday, 09 April 2021, and will be deploying 10-12 trains," the DOTr said.
On Wednesday, the DOTr reported a total of 522 infections out of the 2,821 rail workers tested on Tuesday.
Earlier, DOTr Secretary Arthur Tugade ordered the mass testing of all rail workers to help control the spread of Covid-19 in the National Capital Region's railways. (PNA)