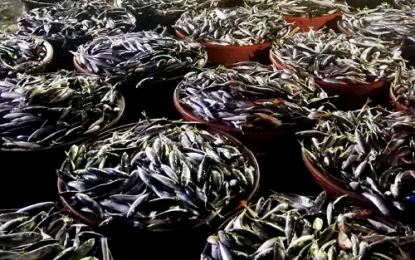 MANILA – The fish unloaded in the Navotas Fish Port Complex (NFPC) for the first quarter of the year reached a high of 46,436.77 metric tons (MT), the Philippine Fisheries Development Authority (PFDA) said on Thursday.
The NFPC caters to retailers in the National Capital Region (NCR) and some parts of Central and South Luzon.
"Despite the government's extension of a strengthened community quarantine in NCR and nearby provinces, PFDA-NFPC continues to provide its clients and stakeholders with quality, sufficient, and affordable fish supply," the authority said.
The record for unloaded fish during the period March 24-31 was 3,607 MT, bringing the total to 18,647 MT. PFDA-NFPC said this surpassed the January and February volume record of 12,404.4 MT and 15,384.9 MT, respectively.
Department of Agriculture Undersecretary Ariel Cayanan, in an online briefing on Thursday, mentioned that galunggong, bangus, tilapia, tulingan, and tamban maintained their position in the top five common species with the highest availability record for March.
He urged consumers to choose wisely especially during the pandemic.
"Due to the open fishing season, our fish supply increased by a ton. This means it's a lot cheaper," he said noting the limited supply of pork in the market due to the African swine fever. (PNA)