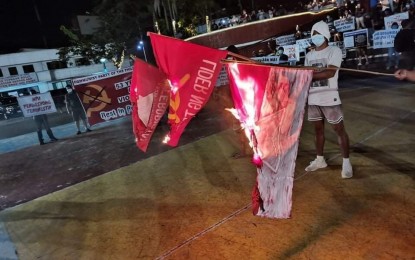 MANILA – The National Task Force to End Local Communist and Armed Conflict (NTF-ELCAC) on Saturday cautioned members of the Supreme Court Employees Association (SCEA) and Judiciary Employees Association (JEA) about possible communist infiltration within their ranks.
Presidential Communications UndersecretaryLorraine Badoy, who is NTF-ELCAC spokesperson, explicitly named SCEA president Erwin Ocson and Sandigan ng mga Empleyadong Nagkakaisa sa Adhikain ng Demokratikong Organisasyon (S.E.N.A.D.O.) president Rosel Eugenio as Communist Party of the Philippines-New People's Army-National Democratic Front (CPP-NPA-NDF) operatives.
Badoy said the two are running the government unions to help the CPP Central Committee and its founding chair, Jose Maria "Joma" Sison, suppress the bureaucracy.
She said it is part of Sison's plans to destroy the country's democracy and push a shift to communism.
"Alam kong marami sa inyo ang nagugulat sa isinisiwalat namin sa NTF-ELCAC. Sa buong pagkakaalam nyo, kilala ninyo si Ocson. Kasama nyo sya sa trabaho at lider na nirerespeto at pinagkakatiwalaan (I know it is a shocking revelation from the NTF-ELCAC. You thought you already knew Ocson, that he's with you and you trust him)," Badoy said.
She noted that the communist groups and their allies are planning to overthrow the government by penetrating the operations of workers' unions.
CPP-NPA-NDF plans
In her previous statement, Badoy said the labor group Confederation for Unity, Recognition, and Advancement of Government Employees (COURAGE) is a recruitment agency of the CPP-NPA-NDF
"Eugenio and Ocson are leaders of COURAGE and leaders as well of the underground illegal organization linked to it, which is the Makabayang Kawaning Pilipino or MKP that advances, supports, colludes, conspires, collaborates in the overthrow of government via armed terrorism of the CPP-NPA-NDF," she said.
Badoy said Ocson's "spurious" public service and refusal to condemn the atrocities committed by the CPP-NPA-NDF is a clear validation that his loyalty belongs to the communist groups.
"Sa madaling salita, ginagamit kayo ni Ocson (In other words, Ocson is using all of you)," Badoy told the government unions.
She further disclosed that part of the monthly dues of SCEA and JEA members are redirected to the funds of COURAGE.
"'Pag humingi kayo ng maliwanag na accounting, malalaman nyo ang mapait ng katotohanan na ang perang pinaghirapan nyo, ng pera na galing sa ating mga kababayan ay ginagamit para sirain ang ating bansa (If you ask for a clear accounting, you will know the distressing truth that the money you have worked for, the money from our countrymen, is being used to destroy our country)," she said.
Forms of evil
The CPP-NPA-NDF and its allies, led by Sison, have been betraying the country for a long time, she added.
"Our idea of how evil looks like has been our undoing. We think that evil comes in the grotesque form of a monster with blood dripping from his teeth. But no. We have come to learn that evil may come in the form of Sr. Mary John Mananzan, chair emeritus of the CPP-NPA-NDF front Gabriela, or UCCP (United Church of Christ in the Philippines) Bishop Hamuel Tequis, who spout Bible verses and make pretenses to compassion and heroism even while leading our precious children and indigenous peoples down the road to their early death and destruction," Badoy said.
She also hit Salugpungan Community Learning Center and ALCADEV (Alternative Learning Center for Agricultural and Livelihood Development) indigenous school teachers for coaching children how to handle firearms instead of pursuing the promise to provide them with better education.
"Evil may come in the form of a Salugpungan or ALCADEV teacher who promises to educate your child for free and does. Only, it is this abomination she teaches your child, how to load a high-powered firearm with deadly ammunition, point it at a fellow Filipino and pull the trigger," she said.
Badoy also slammed the IBON Foundation, a research and information institution.
"Evil may come in the form of a respectable-looking, soft-spoken Sonny Africa of Ibon who manufactures lies about our President, our country, our indigenous peoples, our children, the poorest of the poor – lies that land on glossy brochures in Europe that will ensure that millions of euros continue to fund terrorism and poverty in our country," she said.
Badoy said Ocson is only pretending to care about the rights of the government employees.
"It is to ruthlessly do his job as an operative of the CPP-NPA-NDF to win your trust then lead you down the road to perdition where he will teach you the deeply wounding Doctrine of Hate communists are proficient in and when you ripe for the picking – so filled with hate and despair – will nudge you to join him in the terrorist organization," she said.
Badoy said the Duterte administration, through NTF-ELCAC, vows to end the ruthlessness and cruelty of the communist terrorist group.
"We are here for one thing and one thing alone and it is to end the 52-year communist scourge that has brought so much pain and suffering on the people we serve," she said.
The CPP-NPA is listed as a terrorist organization by the United States, the European Union, the United Kingdom, Australia, Canada, New Zealand, and the Philippines. (PNA)