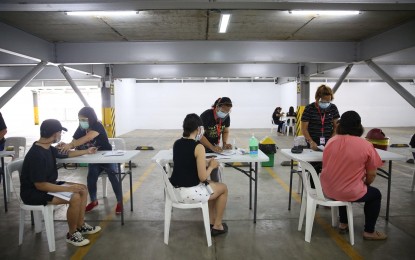 MANILA – Taguig's goal to vaccinate all its residents and healthcare workers against Covid-19 had so far reached 15,689 as of Friday.
A total of 899 out of 9,339 front-liners have already received their second doses while 3,132 senior citizens and 3,218 aged 18 to 59 years with comorbidities also availed of jabs.
"The vaccination will continue until the national government supply of vaccines last," Taguig Mayor Lino Cayetano said in his Facebook updates.
Aside from government-provided Sinovac and AstraZeneca jabs, Taguig is expecting to receive supplies from Novavax, IP Biotech, and Moderna.
The city aims to vaccinate all senior citizens within the first half of the year and commits to have vaccines available for 630,000 eligible citizens.
Taguig has five vaccination sites: Maharlika Elementary School, EM's Signal Village Elementary School in Barangay Central Signal, Lakeshore in Barangay Lower Bicutan, Vista Mall parking building in Barangay Calzada and the first community vaccination center at RP Cruz Elementary School in Barangay New Lower Bicutan.
"Vaccination is one of the main components to contain the virus and move forward to the new normal. Despite the case surges and being under enhanced community quarantine, Taguig is pushing all its efforts to strengthen our science-based and expert-approved initiatives," Cayetano said.
As of April 9, Taguig is monitoring 302 active cases. Of the total confirmed 16,276 infections, 15,789 have recovered while 185 died. (PNA)