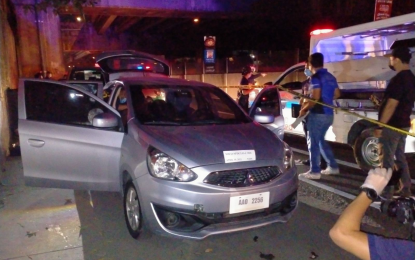 MANILA – Two separate anti-drug operations in the cities of Parañaque and Pasay resulted in the death of three drug suspects and confiscation of over PHP81 million worth of shabu, Philippine National Police (PNP) chief Gen. Debold Sinas said on Sunday.
In a report submitted by PNP Drug Enforcement Group (PDEG) chief Brig. Gen. Remus Medina, Sinas said one of the slain drug suspects, identified as Richard Gumande Abusama, engaged law enforcers in a gunfight when he sensed that he was dealing with an undercover police officer along West Service Road in Barangay Sun Valley, Parañaque around 11:45 p.m. Saturday, resulting in his death.
Seized from Abusama were five kilos of shabu worth PHP34 million concealed in tea bags, marked money, a short firearm of unknown caliber with magazine, and a Mitsubishi hatchback color gray with number AAO 2256.
In Pasay, Sinas said law enforcers killed two suspected drug pushers in another buy-bust operation in coordination with agents of the Philippine Drug Enforcement Agency (PDEA) along Merville and C5 Extension Barangay 201 around 3:10 a.m. Sunday.
The fatalities were identified as Sekan Lataban Unotan alias Rey and Zuharto Lataban Sanday alias Domeng.
The police recovered from the crime scene seven kilos of shabu worth PHP47.6 million also concealed in tea bags, two short firearms of unknown caliber with magazine, and brown Mitsubishi AUV with plate number NCV 3593.
Sinas said the suspects are well-known distributors of illegal drugs within National Capital Region (NCR) and nearby regions.
He said they were able to get supplies of illegal drugs from Chinese nationals and Filipino/Muslim contacts.
Sinas lauded the dedication of the PNP-DEG operatives in going after illegal drug syndicates despite threat of the Covid 19 pandemic.
Meanwhile, NCR Region Police Office (NCRPO) chief Maj. Gen. Vicente Danao Jr. also commended the police and anti-illegal drug operatives for their successful operations against drug syndicates.
He said deaths during the conduct of anti-illegal drug operations "were deeply discouraged and is extremely unnecessary unless compelled by the situation."
"Thus, we plead cooperation from our citizenry especially those engaged in illegal activities to once and for all cease from your illegal operations because NCRPO will not hesitate to enforce the law and protect our people at all cost," Danao said.
He said the series of anti-illegal drug operations in the Metro Manila were in support of President Rodrigo Duterte's intensified campaign against all forms of criminality, illegal drugs and terrorism despite the complexities brought about by the current health crisis.
"Progress is still progress no matter how small. And today, I am elated that we were able to recover around 12 kilos of suspected shabu. This is a huge amount less in the amount of illegal drugs circulating in the Metro targeting more people to succumb to drug addiction which proved to ultimately result in ruined lives and society threatening peace and order in the community," Danao said. (PNA)