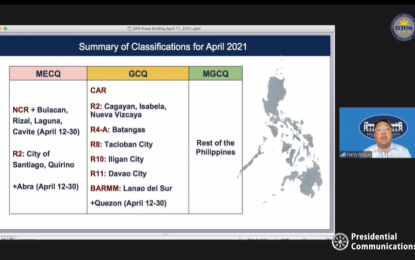 MANILA – President Rodrigo Duterte has placed NCR Plus (Metro Manila, Bulacan, Cavite, Laguna, and Rizal) under the less restrictive modified enhanced community quarantine (MECQ) from April 12 to April 30, Malacañang said on Sunday.
Presidential Spokesperson Harry Roque said Duterte made this decision after more public and private hospitals committed to provide rooms and beds dedicated to Covid-19 patients.
Duterte last week urged the Philippine Health Insurance Corporation (PhilHealth) to expedite the payment of claims of hospitals.
"Dahil sa direktiba ng Pangulo sa PhilHealth na magbayad sa mga ospital na mayroong mga unpaid Covid claims, marami sa ating mga private, national government, at LGU hospitals ay nag-commit na dadagdagan ang mga Covid-19 beds, lalo na ang mga ICU beds sa NCR Plus (Because of the President's directive to PhilHealth to pay unpaid Covid-19 claims, more private, national government and local government unit hospitals have committed to provide additional Covid-19 beds, especially ICU beds in NCR Plus)," he said in a virtual presser.
PhilHealth earlier approved the application of a debit-credit payment method (DCPM) to facilitate the settlement of accounts payable to health care facilities (HCFs) during the state of public health emergency due to the Covid-19 pandemic.
"Ito ang isa sa mga naging kritikal na basehan ng IATF para mag rekomenda sa ating Presidente na magluwag ng kaunti at gawing MECQ ang klasipikasyon sa NCR Plus (This is one of the critical bases of the IATF to recommend to the President to ease the quarantine classification in NCR Plus to MECQ)," he added.
Besides NCR (National Capital Region) Plus, also under MECQ are the City of Santiago in Isabela, Quirino province in Region 2, and Abra in the Cordillera Administrative Region.
Cagayan, Isabela, Nueva Vizcaya (Region 2), Batangas (Region 4-A), Tacloban City (Region 8), Iligan City (Region 10), Davao City (Region 11), and Lanao del Sur (BARMM), and Quezon will be under general community quarantine (GCQ).
The rest of the Philippines will be under the least restrictive modified general community quarantine (MGCQ).
ICU beds in NCR Plus
Roque said private and public hospitals in NCR Plus have committed to provide 164 ICU beds for critical Covid-19 patients and 1,157 Covid-19 regular beds for moderate and severe patients.
He said 74.34 percent of 1,395 ICU beds are still available; 46.04 percent of 6,367 ward beds are unoccupied; 59.56 percent of isolation beds are still available in NCR Plus.
Last Saturday, health authorities recorded 12,674 new Covid-19 cases pushing the tall to 853,209.
In a statement, Roque urged LGUs in the NCR Plus to set up their respective local telehealth triaging systems equipped with sufficient medical personnel available to provide immediate medical and patient referral advice.
Roque said there must be an adequate number of Covid-19 dedicated beds, complementary health human resources, and well-coordinated triage and referral systems in place at the LGUs, isolation and quarantine facilities, and health facilities.
He reminded LGUs in NCR Plus to prioritize the generation of demand for vaccination to those with highest risk for severe disease and death, particularly priority groups A2 and A3 (senior citizens and those with comorbidities) of the national deployment and vaccination plan for Covid-19.
Roque also directed the Department of Labor and Employment and the Department of Trade and Industry to ascertain the number of employees who may undertake alternative work arrangements and its impact on the maximum carrying capacity of the subject area.
Common curfew to remain
Roque said the common curfew from 8 p.m. to 5 a.m. will remain in place until mayors and governors have agreed on modified hours.
"While mayors and governors have not yet agreed on modified hours, it remains as is," Roque said in a statement.
He said consultations are already ongoing and a decision may be made soon.
However, workers, cargo vehicles, and public transportation will not be restricted by the said curfew, he added.
According to amended omnibus guidelines of the Inter-Agency Task Force for the Management of Emerging Infectious Diseases (IATF-EID) as of April 3, 2021, strict home quarantine shall be observed in all households under MECQ. Movement of persons shall be limited to accessing essential goods and services, and for work in permitted offices or establishments or such activities allowed.
Persons below 18 years old, those who are over 65 years old, those with immunodeficiency, comorbidity, or other health risks, and pregnant women shall be required to remain at home at all times except for obtaining essential goods and services or for work.
Under the IATF-EID guidelines, the following establishments, persons, or activities shall not be permitted to operate, work, or be undertaken during MECQ:
-- Entertainment venues with live performers such as karaoke bars, bars, clubs, concert halls, theaters, and cinemas;
-- Recreational venues such as internet cafes, billiard halls, amusement arcades, bowling alleys, and similar venues;
-- Amusement parks or theme parks, fairs/peryas, kid amusement industries such as playgrounds, playroom and kiddie rides;
-- Outdoor sports courts or venues for contact sports, scrimmages, games, or activities;
-- Indoor sports courts or venues, fitness studios, gyms, spas or other indoor leisure centers or facilities, and swimming pools;
-- Casinos, horse racing, cockfighting and operation of cockpits, lottery and betting shops, and other gaming establishments except for the draws conducted by the Philippine Charity Sweepstakes Office;
-- Indoor visitor or tourist attractions, libraries, archives, museums, galleries, and cultural shows and exhibits;
-- Outdoor tourist attractions;
-- Venues for meetings, incentives, conferences, and exhibitions;
-- Personal care services which include beauty salons, beauty parlors, medical esthetic clinics, cosmetic or derma clinics, make-up salons, nail spas, reflexology, aesthetics, wellness and holistic centers, and other similar establishments; acupuncture and electrocautery establishments, and massage therapy including sports therapy establishments. It also includes establishments providing tanning services, body piercings, tattooing and similar services. Home service for these activities is likewise not permitted; and
-- Indoor dine-in services of food preparation establishments such as commissaries, restaurants, and eateries. (PNA)