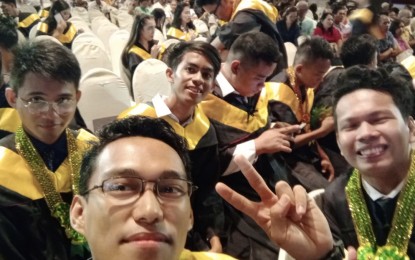 CEBU CITY – For Achilles Cabaron Jr., studying is one thing. Sustaining it and hurdling the cost of education until graduation is another.
Achilles always knew that the menace posed by financial constraints was a threat to his education. He trudged through his college years and somehow found a way.
But apart from effort, he'd like to credit a big portion of his victory to the assistance he got being a beneficiary of the Special Program for the Employment of Students (SPES) of the Department of Labor and Employment (DOLE).
Now a college instructor at the Cebu Technological University (CTU)-Main Campus in this city, Achilles could only recall how meaningful finishing college was for him knowing at that time that he was not alone.
"I was surrounded by people who were willing to help me. More importantly, there was the SPES program that gave me the green light to go on and get my diploma in college," the young professor said in a DOLE statement released on Monday.
Achilles used to be a working student at the state-run university, where he is now teaching at, doing errands here and there while making sure he did not miss any assignments and projects and that he was present in all classes.
Huge blessing
He said the SPES program was a blessing. "While attending to my tasks being a working student, I fortunately was considered for the SPES program. For three times, I was able to avail it and that in itself was a huge blessing since it did not only finance my studies but also helped me get by with my daily needs such as food and other things that I needed in school," he humbly said.
Achilles became a SPES beneficiary starting 2017 and reapplied for the program the following year until 2019, which was his last year in college. On that same year, he successfully obtained his diploma for finishing BS in Industrial Technology Major in Electronics.
For having availed the SPES for two years, his name has now been added to the latest pool of DOLE's SPES babies or the SPES beneficiaries, who have been recipients of the program for more than one year.
Giving back
"Availing the program provided me an opportunity to develop my character not just as a student but also as a responsible employee. I saw to it that I was able to compensate the assistance I got with effort and good work ethics. I was fortunate so it was but proper for me to give back by way of doing my best all the time," he said.
He said his desire to teach and to also give back to his Alma Mater pushed him to continue his professional advancement. "I took Diploma in Professional Education and I finished it successfully. This feat would not have been made possible without the diploma I earned in college. And if I wanted to go on, earning a diploma in college would not have been made possible if not for the SPES program that I was very fortunate to avail of when I needed help the most," he continued.
Achilles is now pursuing his Master's Degree while teaching Fundamentals of Electricity and Electronics and Digital Electronics at the CTU-Main Campus.
"To the Department of Labor and Employment, I thank you for the opportunity that was given to me so I could achieve my dreams. May you continue to implement programs that will help not only those seeking for jobs but also those who want to finish their studies but could not afford it," he said.
Achilles is one of the 12,082 SPES beneficiaries produced by DOLE-7 in 2019 with the department shelling out over PHP53 million for their salaries, accident insurance coverage and service charge.
SPES was suspended in 2020 due to the pandemic but has been revived for implementation this year.
It is the DOLE's youth employment-bridging program which aims to provide temporary employment to poor but deserving students, out-of-school youth and dependents of displaced or would-be displaced workers during summer and/or Christmas vacation or any time of the year to augment the family's income and help ensure that beneficiaries are able to pursue their education. (PNA)