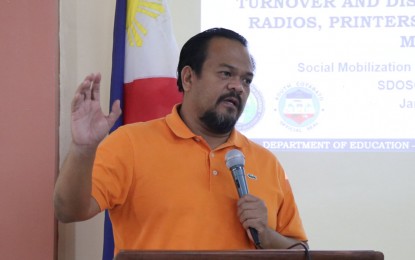 GENERAL SANTOS CITY – The provincial government of South Cotabato has initiated negotiations with suppliers of the Covovax vaccine to fast-track their procurement and delivery to the area.
Governor Reynaldo Tamayo Jr. said Monday that representatives of the vaccine supplier will make another presentation next week to the province's 11 municipalities and lone city regarding the product and other arrangements.
"We expect the purchase to move forward after that and we will ask permission from the DOH (Department of Health) if we will be allowed to do it," he said in his weekly radio program.
The governor reiterated that all mayors in the province are fully supporting the vaccine procurement and committed to providing the necessary funding.
The provincial government earlier submitted a letter of intent to purchase 600,000 doses of the Covovax vaccine, which was developed by the United States-based firm Novavax and manufactured by the Serum Institute of India.
The 11 city and municipal governments agreed to shoulder 60 percent of the required funding while the provincial government, which allotted an initial PHP200 million, will provide the remaining 40 percent.
"All of our LGUs (local government units) are united to make this happen and ensure that we will eventually achieve herd immunity against Covid-19 (coronavirus disease 2019) here in the province," Tamayo said.
The governor said the vaccines that they will purchase will augment the supplies from the national government.
The vaccination of priority health care workers in the province is currently ongoing through the Sinovac and AstraZeneca vaccines provided by the DOH.
As of Sunday night, South Cotabato posted the highest active Covid-19 cases in Region 12 (Soccsksargen) at 106. The latest patients included Koronadal City Mayor Eliordo Ogena, who tested positive for the disease on April 10.
Since March last year, the Integrated Provincial Health Office already recorded a total of 1,843 confirmed infections in the area, with 50 related deaths and 1,687 recoveries.
Tamayo said that while the infections have increased in the past several days, the overall cases in the province are still at the "tolerable" level.
He said the local government has been continually working to control the situation and prevent the current surge in Metro Manila to reach the province.
"Let's help each other in stopping the spread of the virus by strictly complying with the minimum health protocols, especially the wearing of face masks and face shield, and the observance of safe physical distancing," he added. (PNA)