MANILA – The Department of Health (DOH) is now developing the detailed guidelines for A4 category on the priority list of the government's free vaccination program, an official of the National Economic and Development Authority (NEDA) said on Monday.
"The detailed guidelines are being developed by the DOH (in order to be) consistent with the other operations," NEDA Undersecretary for Planning and Policy Rosemarie Edillon said in an online media forum.
Edillon said the framework of A4 category on the priority list has been presented to the Inter-Agency Task Force for the Management of Emerging Infectious Diseases (IATF-EID) and to the DOH-National Immunization Technical Advisory Group (NITAG).
"This (A4) has also been approved by the IATF as well," she added.
The groups of persons listed under A4 category include: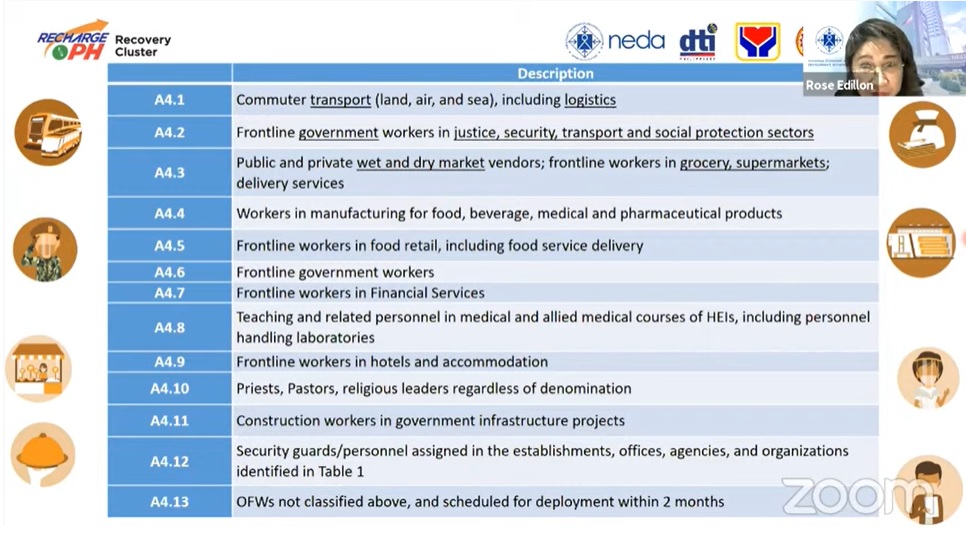 While members of the media are not included in the A4 list, DOH Undersecretary Maria Rosette Vergeire said they will be included in the B classification with other workers in society.
Edillion said there would be a closer partnership with the establishments, agencies, and organizations (EAOs) which are encouraged to disseminate among their workers and personnel information about vaccine deployment activities and procedures in their respective local government units (LGUs).
"[The] EAOs shall issue a Certificate of A4 Eligibility to workers or personnel who belong to the A4 priority subgroup. It [certificate] shall be signed by the owner of the establishment, highest-ranking personnel of the agency or organization with office located in the LGU, head of the human resources unit," she said.
Apart from coordinating with the LGUs for the vaccination of their workers, EAOs are urged to provide logistics support, including transportation, to facilitate their workers' inoculation.
They are also advised to adopt a scheduling system for their workers taking into consideration possible adverse reactions after vaccination which may result in workers taking time off from work. (PNA)