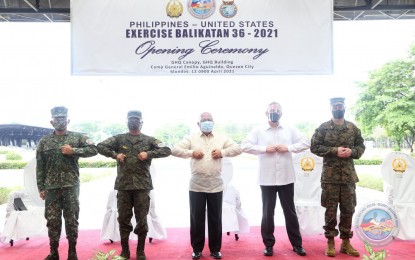 MANILA – The 36th iteration of the annual "Balikatan" exercises between the Armed Forces of the Philippines (AFP) and the US military formally started on Monday.
"The 36th iteration of Balikatan (BK 36-2021) kicks off today 12 April, to last until 23 April 2021," AFP spokesperson Marine Maj. Gen. Edgard Arevalo said in a statement.
Arevalo, also commander of the AFP Education Training and Doctrine Command and this year's exercise director, said last year's "Balikatan" exercises were canceled due to the coronavirus disease 2019 (Covid-19) pandemic.
He added that this year's "Balikatan" will be conducted with stringent health protocols in place and a reduced number of participants.
"This erstwhile annual event pushes through with fewer training events that will not entail face-to-face engagement. Further details to follow," Arevalo said.
The participants to the two-week maneuvers include 736 Filipino troops and 225 American forces.
"Against this backdrop and these challenges notwithstanding, the decrease is only in terms of number and never in the participating nations' passion and desire to meet the steep objectives set forth in every exercise," Arevalo said.
Meanwhile, Arevalo's US counterpart Col. Aaron Brunk reiterated the importance of the bilateral exercises.
"I am greatly honored to be here today and to stand shoulder to shoulder with our Philippine allies and friends. By training together, our militaries build upon each other and strengthen each other. May this exercise and this experience in the next couple of weeks add value to our partnership and our friendship," he said.
AFP chief-of-staff, Gen. Cirilito Sobejana added that the two-week maneuvers will consist of "virtual and physical" exercises while minimal contact will be observed in physical exercises. (PNA)