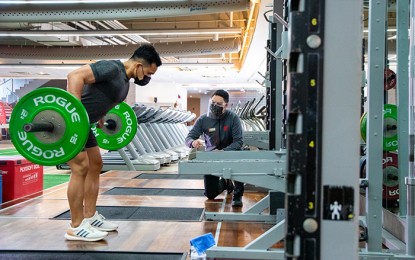 MANILA – With restriction in mobility due to coronavirus disease 2019 (Covid-19), more gym-goers rely on online workout sessions for their daily exercise and to continue their personal fitness goals, a leading fitness clubs operator in Asia said.
In a statement Monday, Evolution Wellness Philippines country manager Mark Ellis said its latest survey shows that the number of gym subscribers using online platforms now has increased compared to the pre-pandemic period.
According to its survey done by Kantar, 77 percent of respondents from the Philippines turned to online workouts amid the lockdowns from 35 percent before the pandemic.
"The results for the Philippines mirror the regional findings very closely," Ellis said.
He added this reflects that the Covid-19 restrictions and lockdown did not stop people to keep up with their fitness goals and they continue to find ways to stay committed to their fitness regime.
Instead of stopping their exercises, gym subscribers are doing 'hybrid approach', or attending virtual classes and online fitness programs when they cannot go to the gym but still visit the gym whenever they can.
However, the survey also revealed that workout satisfaction is lower when doing it at home than going to gym.
"Filipino respondents also report a drop in satisfaction with their workouts from 76 percent pre-pandemic to just 40 percent during lockdowns," Ellis said.
Among the top reasons of lower satisfaction for home workouts include lack of gym equipment at 50 percent, lack of motivation or laziness at 48 percent, lack of gym amenities at 45 percent, lack of a motivating atmosphere at 39 percent, and lack of social interaction at 35 percent.
Evolution Wellness added that due to limitations in home workouts, people also shifted from having specific fitness goals such as losing weight and gaining strength to just "getting some form of exercise" amid the current situation.
It said many gym subscribers are also excited to go back to their workouts and training inside a fitness club.
The gym operator also said they rolled out a flexible membership plan, which had strong uptake in the recent months.
"(It's) presumably because people want to prioritize their health and fitness, while still being prudent with their disposable income which may have come under strain as a result of the pandemic," Ellis said.
Evolution Wellness Philippines is the operator of Celebrity Fitness and Fitness First in the country. (PNA)