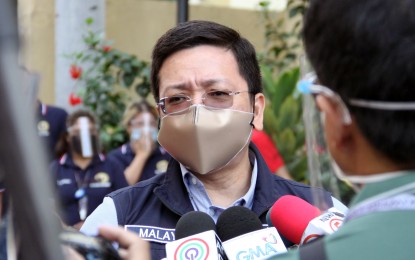 MANILA – Two village security officers will face charges for mauling a quarantine violator in Calamba, Laguna who later collapsed and died, an official of the Department of the Interior and Local Government (DILG) said on Monday.
"The DILG condemns what happened in Calamba and will ensure that all those responsible will be prosecuted and held accountable for their actions. The Calamba PNP (Philippine National Police) was able to get witness testimony from the relatives of the victim as well as from other individuals and they are preparing the cases to be filed against those responsible who allegedly were members of the Barangay Quick Reaction Team of Barangay Turbina, Calamba," said DILG spokesperson Undersecretary Jonathan Malaya in a message sent to reporters when sought for a comment.
Malaya said the Calamba police is just waiting for the issuance of the death certificate of the victim identified as Ernanie Jimenez before filing homicide charges against the suspects identified as Arjay Arbieta and Joel Ortiez.
Jimenez died in the hospital due to serious injuries when Arbieta and Ortiez allegedly kicked him several times after a brief chase.
PNP spokesperson, Brig. Gen. Ildebrandi Usana, meanwhile said follow-up operations are now being conducted against the two suspects who allegedly fled after the incident.
Based on a police report, Jimenez was accosted by the Quick Response Team (QRT) of Barangay Turbina for violating the curfew.
The incident occurred between 10:30 p.m. to 11 p.m. on April 7, when the province was still under enhanced community quarantine.
"According to the witnesses, the victim was repeatedly beaten by the alleged QRT personnel of Barangay Turbina this City," the report read.
It added that the victim collapsed and was brought to Calamba Medical Center Hospital for treatment and "later expired". (PNA)