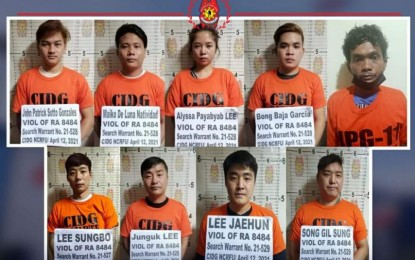 MANILA – Members of the Criminal Investigation and Detection Group (CIDG) arrested five South Korean nationals and four Filipinos allegedly engaged in hacking and phishing activities in separate operations in Angeles City, Pampanga on Monday.
Philippine National Police (PNP) chief Gen. Debold Sinas said Tuesday the arrest of the nine suspects stemmed from three separate search warrants for violation of Republic Act 8484 (Access Devices Regulation Act of 1998) as amended by Republic Act 11449 (An Act Providing for Additional Prohibitions to and Increasing Penalties for Violations of Republic Act 8484 issued by the Angeles City Regional Trial Court (RTC) Branch 117.
In the first operation, Lee Sungbo alias "Seven", a male South Korean national, was arrested at Pulu Amsic Subdivision in Barangay Amsic.
Before the implementation of the search warrant, authorities temporarily seized the service firearm of his private security guard John Michael Dimaampao -- a .38 caliber revolver loaded with three rounds -- for verification.
The operation also yielded 11 SIM (subscriber identification module) cards, seven cellphones, one laptop computer, one desktop computer CPU, 11 assorted bank/payment card, one bill counter, and several computer equipment.
Meanwhile, suspects Yoon Yoensu, Lee Junguk, Alyssa Lee, Maiko Natividad, John Patrick Gonzales, and Bong Garcia were arrested on the same day along Luisa Street, Hensonville Court Subdivision in Barangay Malabanias.
Recovered from their possession were a box of assorted SIM cards, 14 computer units, 12 cellphones with an attached improvised skimming device; one bundle of assorted cellphones, one box of assorted computer cables, six units of internet connectivity devices; one external drive, five flash drives, four credit cards, and 24 notebooks with written account details.
Meanwhile, Lee Jaehun and Song Gil Sung were arrested at Block 16, Lot 20, Pulu Amsic Drive, Pulu Amsic Subdivision in Barangay, Amsic.
The service firearms of their security guard Arnel Cariaga, a shotgun and a .38 caliber revolver, were temporarily seized for verification.
Seized from them were three laptop computers, two tablets, seven assorted cellphones, assorted mini SD cards, USB connectors, one extension router, and one computer monitor.
"The arrested persons are engaged in fraudulent activities through hacking and phishing, victimizing mostly Korean nationals and US citizens who are widely known as online banking/transaction users. These schemes which constitute economic sabotage are one of the national security concerns of the PNP CIDG. These suspects have allegedly amassed multimillion pesos from illicit activities exploiting technology advances," Sinas added.
The arrested suspects were brought to the CIDG office in Angeles City for documentation and temporary custody prior to the filing of the criminal charges in court. (with Lloyd Caliwan/PNA)