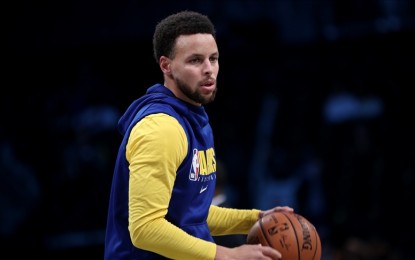 ANKARA – Stephen Curry scored 53 points to become franchise scoring leader in Golden State Warriors' 116-107 win against the Denver Nuggets late Monday.
The Warriors' superstar and the two-time MVP has passed NBA legend Wilt Chamberlain who held the record since 1964 with 17,783 points. Curry now has 17,818 points.
In addition to 33-year-old Curry's impressive form, Draymond Green finished with 18 points, seven rebounds, and seven assists, Andrew Wiggins dropped 17 points and Kent Bazemore scored 14 for the Warriors.
Nuggets All-Star center Nikola Jokic posted a double-double with 27 points, 12 rebounds, and eight assists.
Michael Porter Jr. played with 24 points and nine rebounds.
The Warriors improved to a 26-28 win/loss record while the Nuggets suffered their 20th defeat in the Western Conference.
Other results:
New York Knicks - Los Angeles Lakers: 111-96
Dallas Mavericks - Philadelphia 76ers: 95-113
Orlando Magic - San Antonio Spurs: 97-120
Memphis Grizzlies - Chicago Bulls: 101-90
New Orleans Pelicans - Sacramento Kings: 117-110
Utah Jazz - Washington Wizards: 121-125
Phoenix Suns - Houston Rockets: 126-120. (Anadolu)