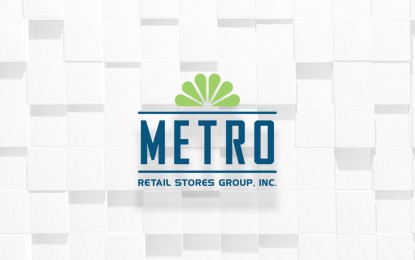 CEBU CITY – Cebu-based retailer Metro Retail Stores Group Inc. (MRSGI) posted a net loss of PHP449.6 million last year, a reversal of the PHP775.6-million profit recorded the previous year, but the company has remained bullish on prospects for the retail industry.
The Gaisano family-owned retailer told the Philippine Stock Exchange on Wednesday its net sales declined by 15 percent PHP31.3 billion for 2020 compared to PHP36.8 billion for 2019 amid the pandemic.
While total food retail business increased by 1.1 percent, total general merchandise business, however, remained challenged as it declined by 45.7 percent over the same period last year.
The company attributed this mainly to the temporary closure of department stores in March 2020. While the stores were gradually reopened, the segment continued to face customer traffic constraints as community quarantine levels were still in effect and consumers prioritized the purchase of essential goods.
In a statement Wednesday, MRSGI president and chief operating officer Manuel Alberto said the company has a track record of success as it remained flexible and focused on customers.
"We will continue to explore opportunities and innovate amid the rapidly evolving landscape so we can bring our brand of excellence to consumers across the country," he said.
The publicly-listed retailer also closed unprofitable department store operations, preparing for a better consolidation for the future.
Blended same stores sales also declined by 19.3 percent over the same period last year brought about by the decline in sales of the general merchandise business.
MRSGI posted a decrease in its operating expenses at PHP6.8 billion in 2020, down by 8.3 percent compared to PHP7.4 billion in 2019.
Despite the challenges in 2020, MRSGI said it remains bullish.
The company aims to continue to meet consumer demand in the areas where it operates and to intensify its brand by expanding its quality offerings.
"MRSGI is also ramping up its presence in multiple channels and continues to implement innovations and updates in its physical stores as well as on its e-commerce platform
shop.themetrostores.ph
as consumers continue to prioritize safety and convenience," it said.
MRSGI also reiterated its commitment to expand and strengthen its network.
Last Jan. 29, Metro Ayala Cebu, the firm's flagship store reopened while two new stores, Metro Danao and Metro Tacloban, opened last February 2021 and March 2021, respectively. (PNA)