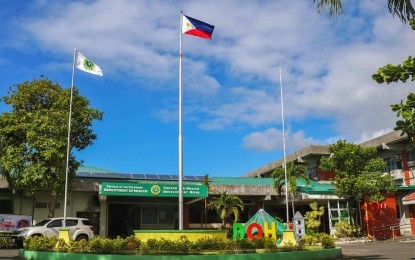 LEGAZPI CITY – The Department of Health-Bicol Center for Health Development (DOH- CHD) through its Regional Epidemiology and Surveillance Unit (RESU), on Wednesday raised the coronavirus disease (Covid-19) risk level of some municipalities and cities in Bicol and the region as a whole.
Based on the agency's report, Bicol is now considered of moderate risk from the previous low risk, due to increasing number of cases. There is now a total of 6,135 Covid-19 cases in the region, out of which 918 are active infections.
The agency's data for the province of Albay showed one area is categorized as high and five areas as moderate risk. Camarines Norte has one area categorized as moderate risk, while Camarines Sur has eight areas categorized as high risk and 17 areas as moderate risk.
Catanduanes has one area categorized as a moderate risk; Sorsogon has five areas considered as high risk and three as moderate risk.
The province of Masbate has no area under high or moderate risk categories.
DOH said the report was based on a March 29 to April 11, 2021 data.
As a result of the new categorization, the DOH Bicol CHD recommended appropriate interventions that must be strictly implemented and complied with by areas of concern according to their category.
"All local government units (LGUs) are enjoined to respond to their local situation by enforcing appropriate interventions based on the level of risk categorization," a statement from the agency said.
The DOH Bicol CHD advised LGUs under all risk levels to enforce strict adherence to the health protocols under the BIDA+ Solusyon, and enhance case finding and contact tracing.
LGUs are urged to identify the group of individuals contributing to the rising Covid-19 cases in their locality and provide appropriate measures.
Granular lockdowns of areas with notable clustering of cases are highly recommended. Temporary treatment and monitoring facilities must be re-activated to provide quarantine measures to exposed individuals and isolation for mild to moderate confirmed cases, the DOH said.
The public is reminded that vaccination only serves as additional protection against Covid-19 and that vaccination does not give full protection from getting infected but will prevent severe and critical forms of infection, thus death.
Meanwhile, this city was one of the areas put under a higher risk category for Covid-19, prompting the local Inter-Agency Task Force for the Management of Emerging Infectious Diseases (IATF-EID) to issue new protocols effective Wednesday until April 29, this year.
New protocols
Mayor Noel Rosal, City IATF chairman, said the new protocols are necessary to contain the increasing number of cases.
"This is for our safety; it is dangerous if it will not be contained, stricter curfew (11 p.m. up to 3 a.m.) and wearing of the mask will be imposed with corresponding penalties for violators," he said.
To reduce the level of risk, the local IATF closed public and private amusement parks, playgrounds, and entertainment venues.
Restrictions were likewise imposed on the movement of residents and visitors.
Village chiefs were directed to mobilize their respective disaster risk reduction management committees and Barangay Health Emergency Response Teams (BHERTs) to monitor and record the arrival of all persons coming from outside Bicol.
Only essential travelers and people with emergency purposes who can present necessary documents and negative reverse transcription-polymerase chain reaction (RT-PCR)/Red Cross Saliva Test/antigen results would be allowed to enter the city.
Based on a DOH assessment, this city logged 55 active cases from March 28 to April 12 or an average of three cases per day.
The reported spike of cases was almost half (49 percent) of the 115 cases recorded in Albay province for the same period. (PNA)