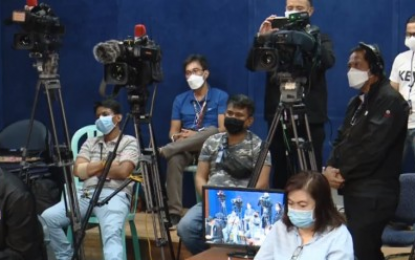 MANILA – The Presidential Task Force on Media Security (PTFoMS) is pushing for the inclusion of media workers in the government's priority list for Covid-19 vaccination, citing their essential role as front-liners in providing news to the public about the deadly virus.
In a letter addressed to Vaccine Czar Secretary Carlito Galvez Jr., PTFoMS Co-Chairman and Presidential Communications Operations Office (PCOO) Secretary Martin Andanar, together with PTFoMS Executive Director Joel Sy Egco, made an appeal to include media workers among the A4 priority group that also includes public utility drivers, construction workers, vendors, priests, and frontline government workers.
"Much like the work being done by our health workers in saving the lives of our countrymen, the Philippine media have been indispensable in the fight by bringing important and life-saving information to the people regarding the virus and the measures put in place to stop the disease pursuant to the guidelines and advisories issued by the IATF," Egco said.
Egco, a former journalist, said media workers have risked their lives to bring the latest news and information to the Filipino people about the virus and its effects.
"However, as part of the so-called "front-liners", they are inevitably exposed to health risks and hazards while they are fulfilling their duty to bring the news to the people," he added.
Andanar and Egco said they both echo the call of Senator Bong Go that "the media should also be given priority once the safe and effective vaccines are available so that (they) can continue with (their) work of covering and bringing news to our countrymen."
President Rodrigo Duterte created PTFoMS through Administrative Order No. 1 with a dedicated mandate of protecting the life, liberty, and security of media workers.
The order also enjoined all agencies of the government to provide full support and cooperation to PTFoMS in carrying out its mandate.
Andanar and Egco said they believed that this support can be best served by the inclusion of the media workers in the A4 priority group. They pointed out that media workers are essential to winning the war against Covid19.
On Monday, the National Economic and Development Authority said the A4 sector is composed of frontline personnel who have high levels of interaction with the public. This group will be next in line for the free vaccination after healthcare workers (A1), senior citizens (A2), and persons with comorbidities (A3).
In a 2020 report, the United Nations Educational, Scientific and Cultural Organization described journalists as front-liners in the fight against the distortion of the truth about Covid19, requesting governments to guarantee their physical safety against the virus in light of their essential role. (PR)