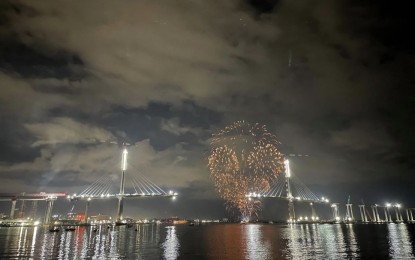 CEBU CITY – The eight crosses on top of the Cebu-Cordova Link Expressway's (CCLEX) twin pylons have been illuminated for a historical commemoration of the 500th anniversary of Christianity in the Philippines.
Cebu Archbishop Jose Palma led the blessing and ceremonial lighting of the CCLEX crosses Thursday night.
Palma said the dream both of a community and people with vision is now becoming a reality.
He said the project, which is led by Cebu Cordova Link Expressway Corp. (CCLEC), is realized through collaboration and cooperation.
In a virtual message during the ceremony, Metro Pacific Tollways Corporation (MPTC) chairman Manuel Pangilinan said the crosses will serve as beacons of hope and symbols of achievement, something Cebuanos should be proud of.
One of the iconic features of CCLEX, the 40-meter crosses on all four sides on top of the two main pylons, is inspired by the Magellan's Cross and symbolize Cebu being the cradle of the birth of Christianity in the Philippines.
"I believe I speak not just on behalf of the City Government of Cebu, but also for all Cebuanos, that we are excited to see the CCLEX being completed very soon. With each passing day, we see this landmark project slowly taking shape," Mayor Edgardo Labella said during the event.
Labella said Cebuanos "look forward to the day when people from Cebu City and the south can easily go to Mactan Island through the CCLEX."
The new bridge will help ease traffic in Mandaue City where the two existing bridges are located, he said.
He said despite the challenges and opposition against the project before, he was glad it pushed through.
"There was opposition in the City Council before and we faced many challenges. But it turned into a wonderful surprise over time when the members of the council gave their support," he added.
The project, which is targeted to be substantially completed by the end of 2021, is undertaken under a public-private partnership framework with the local governments of Cebu City and Cordova municipality.
CCLEX is an 8.5-kilometer toll expressway that will connect Cebu City and Cordova town.
It is a project of the CCLEC, a wholly owned subsidiary of the MPTC, which is the toll road arm of a publicly listed infrastructure conglomerate, Metro Pacific Investments Corp.
The stormy weather on Thursday night failed to dampen the enthusiasm and pride of those who attended the blessing and ceremonial lighting of the crosses.
The event was attended by top officials of the grantors Labella and Vice Mayor Michael Rama for Cebu City, and Mayor Mary Therese Sitoy-Cho and Vice Mayor Ximgil Dino Sitoy for Cordova. (PNA)