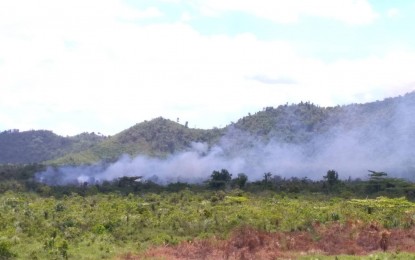 TACLOBAN CITY – Concerned with incidents of peat fires, a non-government organization on Friday pushed for stronger fire prevention, management, and post-fire restoration in the Leyte Sab-a peatland forest.
Juvilyn Salazar, project officer of the International Institute of Rural Reconstruction (IIRR) Leyte Sab-a Peatland Forest Restoration Initiative, said the peatland has been experiencing a yearly incidence of fire since their project began in 2018.
The IIRR is a non-profit organization that helps empower rural communities by making them self-sufficient.
"Fires are an annual occurrence and a majority of the cause originates from unsustainable practices on peatlands. We have invited experts in an online capacity-building to share their recommendations based on the best management practices on fire prevention and management in the Philippines and Indonesia," Salazar told the Philippine News Agency (PNA).
More than 200 participants from various local government units, national government agencies, students, and faculty members of various Southeast Asian universities and state colleges, and non-government organizations attended the virtual event on April 8.
The construction of a drainage system since the 1970s has triggered fire incidents in the Leyte Sab-a peatland forest.
From 2018 to 2020, the IIRR has documented four fire incidents.
"The peat soil should be wet all the time. Once the water is drained, the peatland might trigger peat fire. In order to prevent and reduce peat fires, it is recommended to follow the concept of rewetting through canal blocking or drainage blocking," he said in a phone interview.
When peatlands are drained, they become highly vulnerable to a peat fire.
A simply discarded cigarette butt or a match can cause huge devastation, degradation of the resource base, accelerated carbon emission, and a host of health issues for local communities, according to a briefer posted online by the University of Leicester in England.
The Leyte Sab-a peatland forest in the towns of Alangalang, Sta. Fe, and San Miguel in central Leyte is one of two major peatlands in the Philippines that play an important role in long-term climate change mitigation, given their role in moderating atmospheric carbon dioxide concentrations.
"The forest has carbon storage. It plays an important role to counter global warming and climate change, promote diverse vegetation, and ensure a stable water supply," Salazar said.
About 1,160 hectares of the peatland have been categorized as alienable and disposable land, with 660 hectares distributed to farmers under the Comprehensive Agrarian Reform Program.
Some 15 percent of the area has been cultivated, he added.
The IIRR and Forest Foundation have been implementing the four-year Leyte Sab-a Peatland Forest Restoration Initiative since January 2018.
The PHP20 million project aims to produce legal and scientific studies, come up with a comprehensive map of the forest, and raise community and local leaders' awareness of the importance of peatland forest.
Leyte's Sab-a Basin exhibits diverse vegetation characterized by the presence of wetland forest, boggy areas, sedge and grasslands, and diversity of endemic flora and fauna, with the presence of threatened animals and freshwater fish species, which are found mostly in the wetland forest ecotype.
The basin absorbs and holds water during the rainy season and releases it slowly to maintain base flows in the outflow rivers, according to Forest Foundation.
The Leyte Sab-a Basin peatland is a large catchment basin measuring 3,088 hectares, more than half of which has been reclaimed for agriculture.
The remaining 1,740 hectares in the eastern half of the basin consist of small remnant areas of swamp forest and grass peat swamp. (PNA)