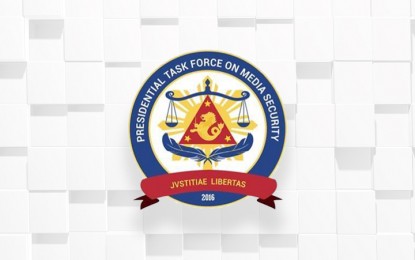 MANILA – The Presidential Task Force on Media Security (PTFoMS) lauded on Friday the decision of the Inter Agency Task Force for the Management of Emerging Infectious Disease (IATF-EID) to include frontline media workers in the government's priority list for Covid-19 vaccination.
"The inclusion of media workers in the A4 priority group highlights President Rodrigo Duterte's policy of safeguarding press freedom by protecting the life, liberty, and security of our media workers," PTFoMS Executive Director Undersecretary Joel Sy Egco said.
He recognized the support of the IATF, vaccine czar Secretary Carlito Galvez Jr, testing czar Secretary Vince Dizon, Senator Bong Go and Presidential Communications Operations Office Secretary Martin Andanar who pushed to include media workers in the priority list.
PTFoMS, through Egco and Andanar, also the PTFoMS Co-Chair, sent a letter to Galvez petitioning the IATF for the inclusion of media workers among the A4 beneficiaries.
Egco pointed out that "much like the work being done by our health workers in saving the lives of our countrymen, the Philippine media have been indispensable in the fight by bringing important and life-saving information to the people regarding the virus and the measures put in place to stop the disease pursuant to the guidelines and advisories issued by the IATF."
"Media workers have risked their lives in order to bring the latest news and information to the Filipino people about the virus and its effects. However, as part of the so-called front-liners, they are inevitably exposed to health risks and hazards while they are fulfilling their duty to bring the news to the people," he added.
Andanar and Egco said they backed the previous call of Go that "the media should also be given priority once the safe and effective vaccines are available so that (they) can continue with (their) work of covering and bringing news to our countrymen."
Presidential Spokesperson Harry Roque earlier said the IATF approved the final group of persons in the Priority Group A4 of the National Covid-19 Vaccine Deployment Plan, which now includes "frontline workers in private and government news media."
President Duterte created PTFoMS through Administrative Order No. 1 in 2016 with a mandate of promoting the welfare of media workers. (PR)