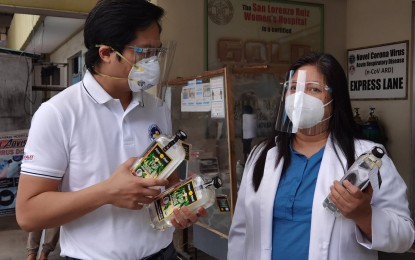 MANILA – With active coronavirus disease 2019 (Covid-19) cases still rising and straining hospital occupancy rates, and treatments in short supply, an abundant, locally-produced, anti-viral, anti-bacterial food supplement is now being pushed for patients with mild symptoms.
Inter-Agency Task Force for the Management of Emerging Infectious Diseases (IATF-EID) co-chair, Cabinet Secretary Karlo Nograles, recently started the distribution of boxes of virgin coconut oil (VCO) to Metro Manila's Level 1 hospitals taking care of patients with mild symptoms.
As of April 13, 2021, 61 patients at Caloocan City Medical Center, San Lorenzo Ruiz Women's Hospital and Ospital ng Malabon have agreed to undergo VCO-supplemented diet to complement their Covid-19 treatment.
"It's about time we explore potential alternative treatments against Covid-19, alternatives that are backed by science and do not pose a threat to the health of Covid-positive individuals," Nograles said in a news release.

The Department of Science and Technology (DOST) has already conducted initial clinical trials on the use of VCO to treat Covid-19 patients.
The agency concluded that VCO can be "an adjunct supplement to probable and suspect Covid-19 cases to help prevent symptoms from becoming severe," Nograles said.

DOST also stated that more studies would be beneficial in order to determine the effectiveness of VCO as additional therapy for Covid-19 patients with co-morbidities.

United Coconut Association of the Philippines' (UCAP) Jun Lao explained that "science has backed the anti-viral properties of the lauric acid in VCO."
"Using VCO is a proactive, practical, and doable strategy," he said in previous interviews.

Supporter
VCO Philippines supported Nograles' initiative by donating free boxes of VCO from its member manufacturers.
It also provided guides and protocols developed by noted Filipino scientist and Ateneo de Manila Professor Emeritus of Science Fabian Dayrit, which Nograles shared with hospital personnel, along with the patient consent forms.

VCO Philippines' Marco Reyes said their member-companies are aware that "we all have to contribute in our country's battle against Covid."

"What is good here, we are not only helping our countrymen afflicted with Covid-19. We are also helping our coconut producers, farmers, and workers," he said.

Coconut exports remained the Philippines' top export-earning product, generating income in excess of $2 billion yearly.
UCAP and VCO Philippines data bared that only 30 percent of the current 73,000 metric ton capacity of VCO is being utilized at present. The current local market consumes an estimated 470 metric tons of VCO.
With renewed public interest in VCO and other coconut oils' alternative health benefits, stakeholders are seeing a 20 percent growth in demand this year. (PR)