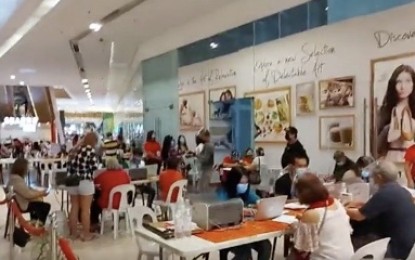 CEBU CITY – The city government here on Monday started the inoculation of senior citizens against coronavirus disease 2019 (Covid-19) in two separate venues in the north district.
Vice Mayor Michael Rama said the "maiden inoculation" for the elderlies was done side by side with the stepped-up information drive to allay the people's fear of the vaccines.
The vaccination for senior citizens at the Robinsons Galleria in the North Reclamation Area and University of Cebu (UC) in Banilad village went ahead as planned, he said.
Elderlies from Barangay Mambaling in the south district who were scheduled for inoculation got their jabs at the Robinsons Galleria while those who are from Barangay Mabolo in the north district were accommodated at UC-Banilad Campus.
"By the way, today senior citizens' vaccination is not for all citizens… This is the day that we must remember our parents, our grandparents and that (is) precisely the marching order. We must give them (elderlies) TLC – tender loving care," Rama said in a press conference at the Cebu City Hall.
Meanwhile, the vice mayor also led an initiative as part of the city's Covid-19 Vaccine Storm Roll-Out Program.
Through this program, local government and the business community will have to work together to build people's confidence in the inoculation program through an information drive using the internet.
Cerwin Eviota, head of Cebu Citizen's Initiative, introduced during the press conference the initiatives conceptualized by the private sector with the aim to ramp up awareness on the importance of vaccination to end the pandemic.
The group introduced "PabakunaTa: Ayaw Patakod, Ayaw Panakod" (let's be vaccinated: avoid infection, avoid infecting others) website that will guide residents of the city on how to register online for vaccination master-listing, Eviota said.
They also tapped Cebuano composer, Jude Gitamondoc, for the "Kinsa Pa Man Diay" campaign jingle – which was sang by Lorenzo, a columnist of a local newspaper in Cebu – that entices the people to be vaccinated.
"We also engage a university in Cebu (to) make the systems design. If the logistics will handle stocks for vaccine up to vaccination center, the university's industrial engineering students and quality assurance experts (with) international quality will help in coming up with systems in implementing the vaccination roll out," Eviota said.
The systems, he said, will cover organizing the inoculators, their assistance, security, distribution of food, and other personnel who will get involved in running the vaccination center.
Rama said the Project Balik Buhay headed by its chairman, Edmun Liu, has committed to assist the city government in vaccinating the residents based on the national prioritization framework from the National Task Force against Covid-19.
Office of the Senior Citizens Affairs (OSCA) head Jeffrey Ocampo said about 15,000 senior citizens have registered online for master-listing.
As of the moment, OSCA personnel have been making rounds of houses with senior citizens to verify the names of those who have registered through the online system. (PNA)