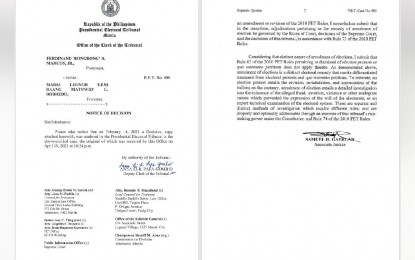 MANILA – The Presidential Electoral Tribunal (PET) on Monday released to the public the full text of its February 16, 2021 decision dismissing the election protest filed by Ferdinand "Bongbong" R. Marcos Jr. as well as ]the counter-protest filed by Vice President Leni Robredo.
In its 93-page decision which was formally received by the PET's Clerk of Court Monday, the court said Marcos "failed to substantiate his allegations of massive anomalies and irregularities in protestee's favor".
The tribunal added that the Marcos protest "chose to make sweeping allegations of wrongdoing and submitted incomplete and incorrect data".
The court noted that Marcos "failed to make out his case" since "there is no substantial recovery of votes in the pilot provinces that he himself had designated," noting that it had conducted and completed the retrieval, revision, and appreciation of more than two million ballots from pilot areas designated by the former senator.
The court noted that PET Rule 65 provides for the outright dismissal of the protest if the protestant fails to show reasonable recovery of votes after the revision and appreciation of ballots from three pilot areas.
The court noted that the Marcos-Robredo case is the first election protest before the tribunal in which the recount and revision of the pilot provinces were completed.
Before this case, four previous cases were dismissed for mootness due to abandonment, failure to substitute the deceased protestant, and the expiration of term.
In the 1996 case of the late senator Miriam Defensor-Santiago against former president Fidel V. Ramos, Santiago decided to waive the revision of remaining unrevised ballots from 4,017 precincts out of the 17,527 precincts of her three pilot areas – Metro Manila, Pampanga, and Zamboanga.
In the case filed by former senator Loren Legarda against then Vice President Noli De Castro, the revision of ballots in 124,404 precincts in pilot areas Cebu, Pampanga, and Maguindanao was not completed because she failed to make the required additional deposit for the continuation of the revision.
In the case filed by Fernando Poe Jr. against President Gloria Macapagal Arroyo, the protest did not reach the revision stage when the actor died only a few months after filing his protest.
His wife's motion for substitution was not granted as she was not a real party of interest.
In the case filed by Mar Roxas against former Vice President Jejomar Binay, the parties filed their certificates of candidacy in the 2016 elections and the protest was eventually mooted after the contested position expired that year. (PNA)