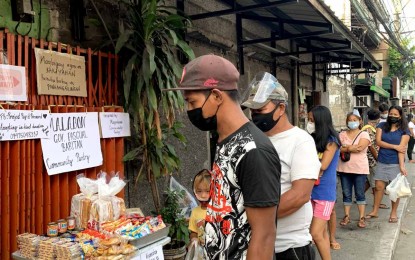 MANILA – Compassion and kindness know no boundaries.
As the coronavirus disease 2019 (Covid-19) pandemic continues to cause a lot of economic dislocation and suffering among Filipinos, acts of kindness like the setting up food pantries, where hungry people can at least can get their basic needs for few days, is a sight to behold.
In Malabon, a food pantry for needy city residents has been set up along Gov. Pascual-Baritan Road, near the Jose Rizal High School campus over the weekend.
The initiative was the brainchild of Malabon resident Nina Louise Tesorero and her friends who are also behind 'Project Pay it Forward'.
In an interview with the Philippine News Agency Monday night, Tesorero said they were inspired by the series of community pantries that were first set up in Quezon City and other parts of the country.
Despite being busy with other projects tasked to help front-liners and tricycle and jeepney drivers who were affected by the pandemic, Tesorero said they decided to go ahead with their community pantry as they felt would be of big help to the people economically affected by Covid-19.
"Tatlo po kami na bumubuo ng Project Pay it Forward, ang nag-o-organize ng community pantry sa Malabon. Tinutulungan din po ako ng parents ko and other relatives (There were three of us who set up Project Pay it Forward, which organized the community pantry in Malabon. My parents and other relatives help us in this initiative)," she added.
Asked how long they are planning to operate the community pantry, Nina said they aim to continue it until this coming Sunday (April 25). Some 180 people have so far benefitted from this initiative.
"At kung papalarin po, hanggang end of April (And if we will be lucky, until the end of April)," she added.
As the virus of kindness also spreads, the friends of Tesorero's friends are also helping in their own way.
When asked about the response of donors for the initiative, Nina said this has been proven overwhelmingly as a lot of people are giving donations.
"Nakakataba po ng puso na ang dami pong sumasadya sa community pantry dito sa Malabon para sila po mismo yung magbaba ng donations nila. May mga donations ng isang plastic bag na extra food supplies nila, meron din pong bagong bili na sadya pong idu-donate, meron din pong mga nanghikayat pa ng iba para mas marami silang mabigay (The response has been very heartwarming. A lot of people are coming to Malabon to personally give their donations. There are those giving plastic bags containing their extra food supplies, there are those giving newly bought food items. There are those convincing others to give more so that the needy will be helped)," she added.
Donors are from all age groups, Tesorero said.
"Hindi lang in-kind ang binibigay nila kundi may cash donation din (Donations are not only in-kind. Some are also giving cash as well), she added.
Like other community pantries, the one in Malabon also observes the same rule of "getting only what you need" for beneficiaries and "giving according to your capacity" for donors.
"Pero may mga instances po na kukuha sila ng one to two piece per item or more. Hindi na po namin pinipigilan, kasi po baka yun po talaga yung pangangailangan nila. Na totoo po talagang kapos sila at mahirap po ang buhay (But they are instances that some beneficiaries would get one to two or more items. We are not stopping them as we are thinking that they are really poor and in dire need)," Nina said.
She said that the concept of the community food pantry is to take care and trust one another.
"So instead po na sawayin sila, nire-remind lang po and then, nagiging okay naman po (So instead of scolding them, we remind them of (the take only what you need rule), then everything is okay again)," she added. (PNA)