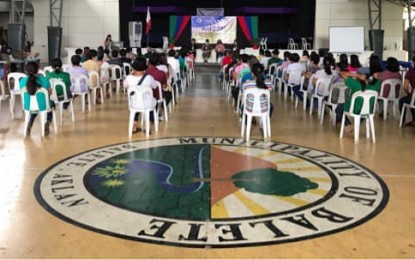 ILOILO CITY – The Department of Social Welfare and Development (DSWD) in Western Visayas is targeting over 50,000 household members of the Pantawid Pamilya Pilipino Program (4Ps) to graduate this year.
"The first batch of exiting or graduating 4Ps households are those identified as early as June last year with no eligible children for monitoring who are 19 years old or have graduated from the Senior High School (SHS)," DSWD Western Visayas-Pantawid Division chief Belen Gebusion said in an interview on Tuesday.
The first batch has 10,393 potential graduates and as of April 19, Gebusion said 7,173 have been validated for exit.
They included 775 from Aklan, 803 from Antique, 1,033 from Capiz, 174 from Guimaras, 1,718 from Iloilo, and 2,670 from Negros Occidental.
By the first Monday of June this year, she said that the information system database of the program has identified 9,644 potentially graduating households and 33,031 households by the end of December.
Gebusion said while they are expected to end their engagement with the government's conditional cash transfer (CCT) program, yet it is also ensured that they are still provided with an intervention they need.
Not all of the households are considered as within the self-sufficient level (economically and socially) of well-being based on the Social Welfare Development Indicator (SWDI).
As preparation for their exit, the DSWD holds a transition planning where the level of well-being of beneficiaries is assessed using the SWDI.
The assessment will determine their needs and gaps still needing to be addressed for them to become self-sufficient.
Members of the households talk among themselves if what they can do in response to the gaps identified.
A case conference is conducted with local government units (LGUs) where the result of the transition planning is presented.
"The final stage in the exit from Pantawid is very crucial because we are presenting to the LGUs the status of households, aftercare programs and services, and including monitoring," she said.
This is to ensure that whatever status they have reached will be sustained and those that need to improve will get the necessary support.
Through this, they won't revert to their previous state and become dependent again on the government, Gebusion explained.
Most of those who are about to exit have children who are in college, so it could be a scholarship or educational support, she added.
"We want this event (exiting or graduation) something that is desired by our Pantawid households because it is considered as a milestone, regardless of their level of well-being," she said.
Gebusion said with their exit, more families will also be given the opportunity to access this government support.
"(For) every household that exits in the program, there is a greater possibility for another set of poor households that could avail of the Pantawid," she said.
The potential replacement beneficiaries are determined at the central office through the national program office of the Pantawid based on the Listahanan, Gebusion added.
As of April 6, 2021, DSWD has monitored 326,934 Pantawid households in Western Visayas.
Monthly, household members are entitled to receive a PHP750 health grant; education grant of PHP300 for elementary, PHP500 for junior high school, and PHP700 for senior high school for a maximum of three children; and PHP600 monthly rice allowance.
Also, they are automatically enrolled with the state health insurance as well as prioritized in the modalities and interventions under the Sustainable Livelihood Program (SLP) and other similar programs.
However, beneficiaries must comply with the conditions to include pre-and postnatal for pregnant women, attend family development sessions (FDS), regular preventive health checkups and vaccines for children 0 to 5 years old, twice a year deworming for 6-14 years old children, and school-age children must enroll in school and maintain an attendance of 85 percent of class days every month. (PNA)