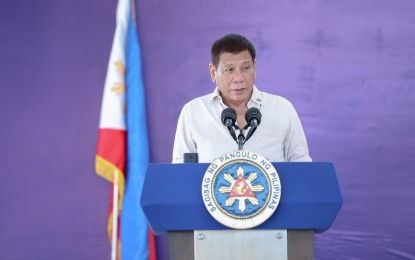 MANILA – President Rodrigo Duterte on Tuesday called for the "complete" abolition of the controversial Kafala scheme, a sponsorship system that monitors and restricts the migrant laborers' movement.
In a taped video message aired during the virtual forum on labor mobility and human rights, Duterte said the Kafala system is "unjust" and "exploitative" as it places thousands of migrant workers "in the most vulnerable situation, unseen, unheard and unable to defend their dignity as a human being."
"We cannot justify the denial of basic human rights and the fundamental freedoms of every individual regardless of status. That is why the Philippine government strongly called for a complete abolition of a kafala system sooner rather than later," Duterte said.
Kafala originated from the Arabic word which means "sponsorship."
The Kafala Scheme is a mechanism in the Gulf nations used to monitor migrant workers, usually unskilled workers through a sponsor, including household service workers, construction workers, and service industry workers.
Under the system, the sponsor is usually the employer who is responsible for the immigration status and visa of the migrant worker.
Workers cannot leave without their employers' consent, making them vulnerable to abuse.
Duterte said the "unjust" Kafala system must be dismantled in order to end inequities and suffering "once and for all."
"We are all familiar with the very painful stories of abuse from inhumane working conditions to nonpayment of wages, from restriction of movements to denial of healthcare from sexual exploitation to outright murder," he said.
Duterte also acknowledged that the coronavirus disease 2019 (Covid-19) pandemic has put migrant workers under the Kafala system in a "more precarious position."
"As the world went into lockdowns, many were driven into destitution with no job, no social safety nets and no money to send back home. These cannot go on. We must address the structural inequalities and push migrant workers to the grim reality," he said, adding that the Covid-19 pandemic response must be "inclusive with no room for any kind of discrimination."
The DFA held the virtual forum in cooperation with Saudi Arabia's Ministry of Human Resources and Social Development and the International Organization for Migration to discuss the Global Compact for Safe, Orderly and Regular Migration (GCM) - a primary process of the United Nations (UN) to protect Filipino migrant workers against all forms of abuse and exploitation.
The webinar was also conducted to highlight the recent positive developments in the Middle East that addresses the negative effects of the Kafala system.
Duterte said he welcomes the reform initiatives of Saudi Arabia, Oman, Qatar, and, of course, Bahrain that would improve the working conditions of Filipino migrant workers.
"Certainly, the Philippine government assumes its part for the responsibility in ensuring that our people live in safety and dignity wherever they may be. As I have said before the Filipino is not a slave to anyone, anywhere," he said. (PNA)