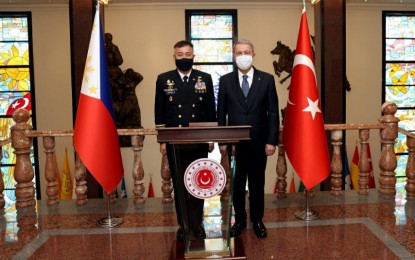 MANILA – The Philippine Navy (PN) is exploring ways to collaborate with the Turkish government in its ongoing modernization efforts, its chief said Tuesday night.
"The objective of the visit was for the PN to explore methods of collaboration with the Turkish government in terms of pursuing current and future modernization efforts," Vice Adm. Giovanni Carlo Bacordo said in a message to the Philippine News Agency (PNA) when asked regarding the visit of a PN delegation to Turkey last week.
Bacordo said the delegation's visit was at the invitation of the Askeri Fabrika ve Tersane İşletme, Military Factory, and Shipyard Management (ASFAT, Inc.), a state-owned defense contractor that is directly under Turkey's Defense Ministry.
"The visit was also an opportunity for the Turkish government to showcase their defense capabilities to us through ASFAT, the Turkish Navy, and other agencies," he said.
The ASFAT develops, manages, and uses the facilities and capabilities of the 27 ordnance factories and three public naval shipyards in Turkey.
"They are particularly interested in providing capability and technology solutions and be able to participate in the different acquisition projects for naval vessels and other defense equipment. Their main selling point is their centuries-old and proven shipyard capability that guarantees the quality of work and long-term integrated logistics support," he said.
Bacordo, meanwhile, noted that the successful engagement with the Turkish Navy is perceived as a significant opportunity that would jumpstart future cooperation in maritime security through naval exercises, personnel exchanges, and education and training, among others. (PNA)