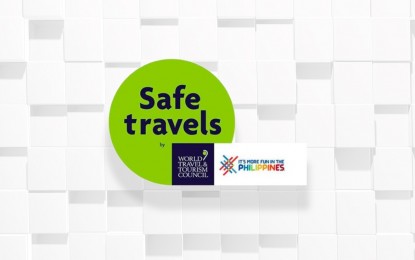 MANILA – A total of 40 hotels in the Philippines have so far secured the World Travel and Tourism Council (WTTC) Safe Travels Stamp, indicating an increase in tourism establishments that have adopted global health standardized protocols.
On Wednesday, the Department of Tourism awarded the stamp to 33 hotels and resorts from six regions, 16 of which are in Cebu and Bohol, nine in Palawan, three in Boracay, three in Zamboanga, one in Baguio City, and one in Davao City.
"Total number of recipients is now at 40 including the seven accommodation establishments given the Safe Travels Stamp earlier this year," the DOT said.
The WTTC Safe Travels Stamp is the world's first safety and hygiene stamp for travelers to recognize governments and businesses that implement global health and safety guidelines amid the pandemic.
In September 2020, the Philippines received the stamp for putting in place health and safety guidelines aligned with the WTTC's core requirements.
"In March, we received more than 100 applications coming from the different regions, which also include Mabuhay accommodation establishments and destinations. This surge of interest is reflective of their readiness to adapt to the new normal and desire to be globally recognized as a fun and 'safe travels' facility," Tourism Secretary Bernadette Romulo-Puyat said during the awarding ceremony.
Of the 33 new hotels to receive the stamp, five are star hotels while 28 have regular accreditation.
"Now that the country's vaccination program is in full swing, we anticipate that parallel initiatives across the globe will hasten the resumption of international travel. As early as now, we need to prepare our facilities and destinations to be visitor-ready, with health and safety as key concerns," Romulo-Puyat said.
"The WTTC Safe Travels Stamp, on top of our accreditation, will hope to restore travelers' confidence in the Philippines as a 'safe and fun' destination," she added.
In a press conference, Romulo-Puyat clarified that the stamp is not a requirement for hotels to operate under the new normal, but getting one comes with the opportunity to get global exposure through the vast network of WTTC member organizations.
"All we are requiring is a DOT accreditation but of course I am encouraging everybody to apply for this because this is like a stamp of approval that you are not only DOT accredited but worldwide pumasa 'yong standard mo (your standard passed)," she said.
The latest hotels to secure the stamp are:
-- Aruga by Rockwell
-- Grand Hyatt Manila
-- Joy Nostalg Hotels & Suites Manila
-- Solaire Resort
-- The Peninsula Manila
-- Baguio Country Club
-- The Forest Lodge at Camp John Hay
-- The Manor at Camp John Hay
-- Balai Adlao (El Nido, Palawan)
-- Casa Kalaw (El Nido, Palawan)
-- Club Paradise (Coron, Palawan)
-- El Nido Resorts – Apulit Island Resort
-- El Nido Resorts – Lagen Island Resort
-- El Nido Resorts – Miniloc Island Resort
-- El Nido Resorts – Pangulasian Island Resort
-- Hotel Covo (El Nido, Palawan)
-- Huni Lio (El Nido, Palawan)
-- Amarela Resort (Panglao, Bohol)
-- Amun Ini Resort and Spa (Anda, Bohol)
-- Bai Hotel (Mandaue City, Cebu)
-- Best Western Plus The Ivywall Resort (Panglao, Bohol)
-- Bohol Beach Club (Panglao, Bohol)
-- Cebu White Sands Resort and Spa (Mactan)
-- C Suites at 8 Newtown (Lapu-Lapu City)
-- Jpark Island Resort and Waterpark (Lapu-Lapu City)
-- Modala Beach Resort (Panglao, Bohol)
-- Mithi Resort and Spa (Dauis, Bohol)
-- Plantation Bay Resort and Spa (Lapu-Lapu City)
-- Tambuli Seaside Resort and Spa (Lapu-lapu City)
-- The Bellevue Resort (Panglao, Bohol)
-- The Hotel Elizabeth (Cebu)
-- Waterfront Airport Hotel and Casino
-- Waterfront Cebu City Hotel and Casino
-- Grand Astoria Hotel (Zamboanga City)
-- Hotel Camila 2 (Dipolog City)
-- Mibang Hotel (Dipolog City)
-- Seda Abreeza Hotel (Davao City) (PNA)