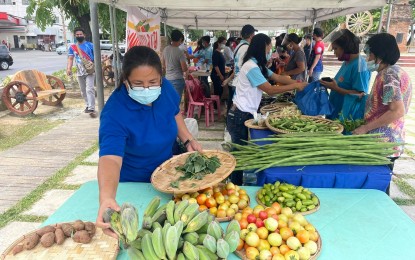 LAOAG CITY – A community pantry here popped up at Aurora Park on Wednesday to the delight of some residents, making life a little lighter amid the pandemic.
With a reusable bag on hand, Badette Guira, of Barangay 6, rushed to the community pantry and took some grocery items she lacks at home.
Like Guira, other housewives availed of some items at the food pantry consisting of eggs, fruits and vegetables, rice, noodles, coffee and sugar, among others.
"We should never forget the spirit of 'bayanihan' in times of crisis. Let us all do our share to be a blessing to others," said Handy Lao, a businessman and president of the Philippine Councillors League-Ilocos Norte Chapter, who initiated the Laoag pantry after community pantries have sprouted across the country.
The pantry, which opens Wednesday and runs until Friday, is open from 9 a.m. to 5 p.m.
When going to the pantry, people are reminded to always observe minimum health protocols and to bring their own reusable bags as the use of plastic materials is being discouraged in the city.
"That is wonderful. It's all over the country and a good way of sharing anything we have and it goes for everyone regardless (sic) of status and age. That's the bayanihan spirit," said Mary Ang, a volunteer in the city. (PNA)