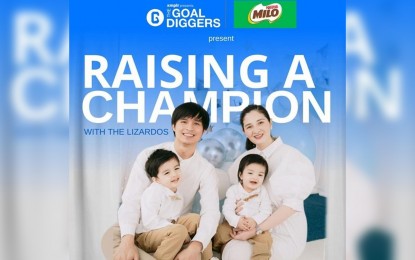 MANILA – The Goal Diggers, a newly-launched sports podcast program, recently rolled out the first installment of its parenting series, "Raising a Champion" with MILO-Philippine Taekwondo Association alumni Japoy Lizardo and Janice Lagman-Lizardo.
In the maiden episode sponsored by MILO, the taekwondo couple relived their journeys as first-time parents and gave advice on how to engage toddlers into sports.
Speaking from experience with their sons, the couple learned that providing kids different avenues to explore will help them learn and discover their love for sports.
"Don't force them to do what they don't want to do. Kasi they will not excel pag pinipilit mo sila (if you'll force them). Whatever they like, doon sila mag-excel (they will excel there). Let them choose what they want and don't choose for them," advised Janice about introducing the right sport for kids, believing that giving kids enough exposure will be key to start their champion journeys.
In the case of their sons Jace and Jevi, Japoy and Janice's sporting backgrounds enabled them to provide their kids multiple outlets to try different sports. Naturally for their eldest, Jace showed strong interest in the martial art.
"Sa MILO Summer Clinic sa taekwondo, sinali namin si Jace (I enrolled Jace in MILO Summer Clinic)," Japoy said in a news release on Tuesday. "Tinignan lang namin ano ang magiging reaction niya. Nagulat kami na natapos niya ang one-hour session na tuluy-tuloy. I am very happy naman na nagpapakita siya ng interest sa sports (We just observed what would be his reaction. We were surprised that he finished one-hour session. I'm very happy that he showed interest in sports)," he said, noting that they are also letting their son try football.
Meanwhile, two-year-old Jevi seemed to have followed suit, mimicking the moves he sees from his parents and older brother.
"It's good for them [kids] that they have activities," said Janice. "Para (So that) within the family, you will be healthy and magkaroon ng (to have) healthy lifestyle."
Setting an Example
Being coaches themselves, Japoy and Janice take stock of their experiences to teach their sons fun sporting activities to keep them interested and engaged. The couple tries to set an example by bringing their kids to trainings so that they can also learn.
"Kami ni Janice, we try to be a role model for our kids na nakikita nila kami nag-sports, kaya pati yung interest nila sa sports tumataas talaga (they found we are into sports, so their interest in sports really increased)," Japoy said.
Having dedicated most of their lives to taekwondo, the couple revealed that they intend to pass on life values they have learned from the sport.
Keeping true to his promise of being a role model for his kids, Japoy likewise stands as a role model for aspiring young athletes in the newest MILO campaign, Mula Noon Hanggang Ngayon.
The champion's well-documented sports journey has brought great inspiration to many aspiring athletes, which even led to the sport's increased popularity.
Now regarded as a revered athlete, Japoy imparts his experience and expertise by mentoring future taekwondo champions at the MILO-Philippine Taekwondo Association clinics.
He also coaches for the national athletes and the varsity teams of De La Salle University and College of Saint Benilde. Janice, who is also a world champion in her own right, coaches at the University of the Philippines Diliman.
Engaging kids into sports
On finding ways to help parents expose their kids to sports amid the ongoing health situation, the Lizardos recommended to make use of readily available materials online to introduce sports to kids.
The MILO Champion Habit, where Japoy is featured as one of the coaches, is a six-minute exercise video designed to help kids form daily exercise habits.
MILO also offers interactive online classes to give kids a chance to be trained directly by MILO's expert coaches. Parents can enroll their kids this summer at the MILO Interactive Online Classes.
"The most important role that sports play is nurturing the physical aspect of children's development, which is very critical in this digital generation," Dr. Robina Dy, developmental and behavioral pediatrician, said in affirmation, noting the current digital generation can further hinder today's youth into engaging into physical activity. "If you get them early on in active lifestyle, it will refrain us from falling into that trap."
Learn more about the Lizardos' parenting styles in the pilot episode of The Goal Diggers' Raising A Champion Series. Sponsored by MILO, the podcast airs every Saturday at 8:00 pm, on The Goal Diggers' social pages on Facebook and YouTube, and on Spotify.
Meanwhile, parents can start their kids' active journeys with MILO's library of sports content on the MILO Philippines YouTube page. Make sports and exercise part of their daily habit with a glass of MILO so that they get the winning energy they need to achieve their dreams. (PR)