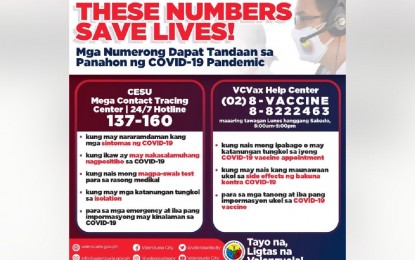 MANILA – The Valenzuela City government has set up a hotline dedicated only to queries and concerns related to the city-wide vaccination campaign against the coronavirus disease 2019 (Covid-19).
Mayor Rex Gatchalian said Wednesday residents may contact the Valenzuela City Vaccination (VCVAx) help center at hotline number: 8-8222463 or through e-mail via [email protected] from 8 a.m. to 5 p.m. from Mondays to Saturdays.
The VCVax help center will serve residents who want to request or change their Covid-19 vaccination appointment schedules, report adverse effects after being inoculated, and other similar concerns.
The City Epidemiology and Surveillance Unit's (CESU) Mega Contact Tracing Center, meanwhile, will be exclusively accommodating concerns related to Covid-19 such as transmission, infection, testing, isolation, and hospitalization.
"We now have two call centers for two distinct concerns. In order to lessen the callers with vaccination concerns in CESU, we now opened our VC VAX Help Center," Gatchalian said.
Residents may reach the CESU contact tracing center anytime through hotline number 137-160.
The emergency number for the surveillance unit and contact tracing will only cater to residents experiencing Covid-19 symptoms, those who get in close contact with the positive patient,s and those who want to avail of swab testing.
CESU will also entertain queries about the city's isolation facilities and other emergencies related to Covid-19. (PNA)