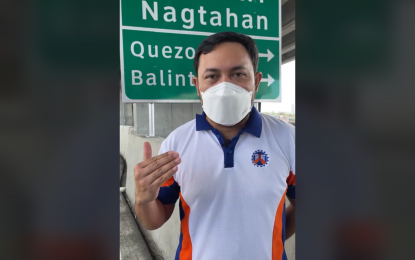 MANILA – The Nagtahan off-ramp of the Skyway Stage 3 is now open to motorists, an official of the Department of Public Works and Highways (DPWH) said on Thursday.
"It's now open," Anna Mae Lamentillo, chairperson of the DPWH's Build, Build, Build Committee said in a text message.
Earlier in the day, DPWH Secretary Mark Villar announced the opening of the off-ramp in a video posted on Facebook.
"Good morning to everyone, I'm here right now at the Nagtahan ramp of the Skyway. Behind me is the Nagtahan ramp, and as of today, this will be open to motorists this afternoon, if you are going to Manila area you can already use this later," he said.
Villar said using the new ramp, his trip to Manila from Muntinlupa only took less than 30 minutes.
He said they are looking to finish the Nagtahan on-ramp next month.
Last January 14, President Rodrigo R. Duterte led the opening of the 18-kilometer Metro Manila Skyway Stage 3 from Buendia, Makati City to Balintawak, Quezon City that connected the South Luzon Expressway (SLEX) and North Luzon Expressway (NLEX).
The PHP44.66 billion elevated expressway was built under the Build, Build, Build Program, which is part of the program of the government to decongest Edsa.
The BBB project connects NLEX to SLEX, thus travel time will be reduced from 2 hours to only 30 minutes while Makati to Quezon City can be reached in 20 minutes.
The new expressway redirects some 55,000 motorists from the congested Edsa traffic daily.
The Skyway Stage 3 project has eight access ramps/interchanges strategically located as follows: Buendia Avenue, (South Super Highway, Makati City), Pres. Quirino Avenue (Malate, Manila), Plaza Dilao (Paco, Manila), Nagtahan/Aurora Boulevard (Manila), E. Rodriguez Avenue (Quezon City), Quezon Avenue (Quezon City), Sgt. Rivera St. (Quezon City) and NLEX. (PNA)