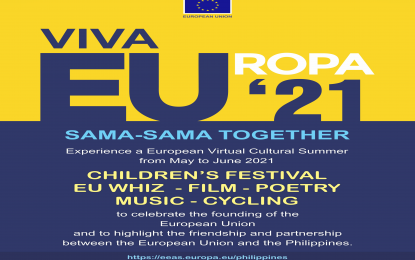 MANILA – Despite the pandemic, the European Union (EU) is pushing through with its 2021 Viva Europa, a series of activities to bring European culture closer to the Filipino people.
EU Ambassador to Manila Luc Véron said the bloc wants to continue showcasing its unique cultural diversity and enhance its cultural ties with Manila, which he said is an effective way to counter stereotypes and nurture dialogue, open-mindedness, dignity, and mutual respect.
Véron said the delegation is adopting the tagline "Sama-Sama Together" to convey the values of friendship and partnership it has with the Philippines, as well as the solidarity that needs to be nurtured, especially in these trying times.
"I would like to reiterate the need for all of us to come and work for a common good using our respective cultures and heritage. Culture, after all, provides all of us a platform for dialogue and closer engagements. It defines our identity and it makes us understand each other better. In other words, it is what binds all of us. It is what 'sama-sama together' means," he said in a press conference on Thursday.
From May to June, the EU Delegation will organize activities centered on poetry, music and visual arts, dance, film, literature, science, cycling, and crafts for free at its official Facebook page.
The joint EU activities with other European embassies will be as follows:
- Lakbayin Natin ang EU (Journey to the EU) festival for children (May 16 at 10 a.m.)
- Bersong Euro-Pinoy featuring European and Filipino poetry (May 21 and 28 at 6 p.m.)
- Euro-Pinoy Concert (June 4 at 6 p.m.)
- Musica FEUropa Choral Festival (all Saturdays of May from 8 p.m. to 9:30 p.m.)
- EU Whiz Competition (applications until May 1)
- Beyond the Stars, Reach Out to the Skies webinar on Copernicus and Galileo (June 25 from 3 p.m. to 5 p.m.)
- Webinars on Bicycle Tourism, Road Safety/Etiquette, Bike-Friendliness and People-Centered Architecture (May 21 at 9:30 a.m.)
- Dante in the Philippines: Teaching and Translating Dante Today webinar (May 7 at 2 p.m.)
- EU Film Festival and EuroPelikula (selected films will be accessible from May 5 to June 5)
Films include:
- ACASA MY HOME by Radu Ciorniciuc (Romania, Finland, Germany)
- AURORA by Miia Tervo (Finland)
- FIRE WILL COME (O QUE ARDE) by Oliver Laxe (Spain, France, Luxembourg)
- HER JOB (I DOULIA TIS) by Nikos Labôt (Greece, France, Serbia)
- OUR STRUGGLES (NOS BATAILLES) by Guillaume Senez (Belgium, France)
- PERFUMES (LES PARFUMS) by Gregory Magne (France)
- THE AUDITION (DAS VORSPIEL) by Ina Weisse (Germany, France)
Viva Europa began in 2010 to signify the founding of the EU and to highlight the importance of the Philippines as a cultural partner of the European Union.
It is a joint effort among the EU Delegation to the Philippines, the embassies of Belgium, Czech Republic, Denmark, Germany, Spain, France, Italy through the Philippine-Italian Association, Hungary, Austria, and Poland, the Cultural Center of the Philippines, Ateneo de Zamboanga University, De La Salle University, and Far Eastern University. (PNA)