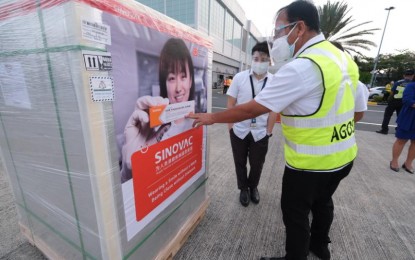 MANILA—The Philippines on Thursday received 500,000 more doses of Covid-19 vaccine purchased by the government from Chinese pharmaceutical firm Sinovac Biotech.
The new batch of Sinovac' CoronaVac vaccine arrived at around 5 p.m. on board a Philippine Airlines flight from Beijing, bringing to 3 million the total doses of Sinovac vaccine delivered in the country.
National Task Force Against Covid-19 (NTF) chief implementer, Secretary Carlito Galvez Jr. witnessed the arrival of the additional Sinovac vaccines at the Ninoy Aquino International Airport.
In an interview, Galvez said 100,000 doses of the newly-delivered vaccine will be allocated for the cities in the National Capital Region (NCR).
He said the NTF and the National Immunization Technical Advisory Groups (NITAGs) have talked about saturating Metro Manila to immediately achieve herd immunity between October and November this year.
The remaining 400,000 doses, he said, will be distributed in highly urbanized cities with the highest Covid-19 attack rate, including priority areas in Region 6 (Western Visayas) and Region 7 (Central Visayas) particularly Cebu and Davao.
The first batch of the 1 million doses of government-procured CoronaVac vaccine arrived on March 29 while the second batch of 500,000 doses were delivered on April 11.
The country's first 1 million doses of Sinovac vaccine were donated by the Chinese government and delivered in two batches – 600,000 doses on Feb. 28 and 400,000 vials on March 24.
Aside from the 3 million CoronaVax vaccines, the Philippines has so far received 525,600 doses of AstraZeneca through World Health Organization-led Covax Facility.
Galvez said at least 27 percent of the healthcare workers are still waiting for the arrival of other vaccine brands such as Pfizer and Moderna.
"Iyon ang kanilang mga preference considering na gusto natin din na pagbigyan din sila katulad ng mga senior na ibinibigay po natin kung ano yun preference po nila (That's their preference and we would like to provide them the vaccine preference that they want, the same as senior citizens)," he said.
Vax delivery on April 29
Meanwhile, Galvez said another batch of CoronaVac vaccines will be delivered on April 29.
The next shipment of 500,000 doses of CoronaVac vaccine will be equally distributed in Luzon, Visayas, and Mindanao, he added.
"Kasi yung darating na Gamaleya ay concentrated lang sa NCR Plus (Because the upcoming Gamaleya vaccines will be concentrated on NCR Plus bubble)," he said.
He said the initial batch of 15,000 doses of Sputnik vaccine produced by Russia's pharmaceutical firm Gamaleya Research Institute will arrive on Sunday.
"Nangako po sila na yung 485,000 ay darating by end of April or just in case kung magkaroon pa ng delay mga siguro (They promised to deliver 485,000 doses by end of April or just in case there will be a delay) it would take two or three days," Galvez said.
The Sputnik V vaccine will be given to areas under NCR Plus composed of Metro Manila, Bulacan, Laguna, Cavite, and Rizal.
Galvez said the Philippines will experience a stable supply of the Covid-19 vaccine in June.
Once the country achieves a steady supply of 3.3 million doses monthly beginning August, Galvez said the government targets to inoculate 120,000 NCR Plus residents daily.
With a very limited supply of Covid-19 vaccine worldwide, Galvez thanked the Sinovac for continuously delivering the CoronaVac jabs.
He reminded the public to continue observing minimum health standards. (PNA)