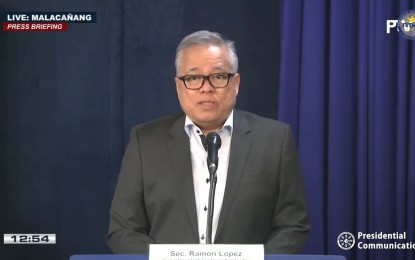 MANILA – Department of Trade and Industry (DTI) Secretary Ramon Lopez on Friday said 13 percent of micro, small, and medium enterprises (MSMEs) are still closed during the modified enhanced community quarantine (MECQ) in the NCR (National Capital Region) Plus area.
In a television interview, Lopez said this number has eased from 15 percent of MSMEs that closed their operations when the Metro Manila, Bulacan, Cavite, Laguna, and Rizal were placed under ECQ.
However, this is far from the numbers when Metro Manila was placed under general community quarantine (GCQ) and less stringent community quarantine measures for the four other provinces.
MSMEs that were not operating then were only at 4 percent, the DTI survey said.
Lopez is hoping to bring back the NCR Plus to GCQ status the soonest time possible, which is by May 1.
"But there's an 'if'; if we really ramp up the ICU (intensive care unit) beds, the health care system… If we are able to commit that before the end of (April), it's possible that we move to GCQ and have a granular lockdown," he said.
On the other hand, assuming that cases are still high and the health care system remains at the critical level, Lopez said they would understand that the NCR Plus will need more time before going back to GCQ.
On Thursday, National Task Force Against Covid-19 deputy chief implementer Vivencio Dizon said the utilization rate of ICU beds could be at a moderate level before next month as public and private hospitals committed to adding 176 more beds and additional 1,000 ward beds in NCR Plus.
Labor-intensive jobs
Lopez said they want to bring back labor-intensive sectors including personal care services, with less than a million workers, and dine-in services in food establishments.
DTI estimates that some 1.5 million jobs were shed in the job market during the ECQ in NCR Plus, with only 500,000 jobs brought back during MECQ, the trade chief said.
"That's the importance of the GCQ, to get back the one million (jobs)," he added.
MSME relief measures
Lopez said the Small Business (SB) Corp., the financing arm of DTI, continues to provide zero-interest loans to MSMEs through the Covid-19 Assistance to Restart Enterprises (CARES) program.
Under the Bayanihan to Recover as One Act (Bayanihan 2), the government allocated PHP10 billion to DTI for the CARES program—PHP6 billion for tourism-related enterprises and PHP4-billion for other MSMEs.
Lopez said SB Corp. has released PHP3.3 billion of loans, assisting around 27,000 MSMEs.
Loan take-up in the tourism sector is slow since many tourism businesses are closed, he added.
"Borrowers are reluctant (to borrow) because if their businesses are closed they can't commit to pay," he said. (PNA)