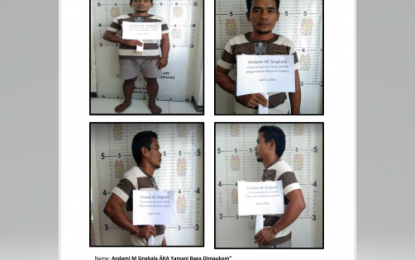 MANILA – The Presidential Task Force on Media Security (PTFoMS) lauded the arrest of another suspect in the 2009 Ampatuan massacre in Datu Saudi Ampatuan, Maguindanao.
In a report submitted to PTFoMS, Col. Donald A. Madamba, Provincial Director of the Maguindanao Police Provincial Office, said Andami M. Singkala alias Yamani Baga Dimaukom was arrested by authorities early this month.
Presidential Communications Operations Office (PCOO) Secretary Martin Andanar, co-chair of the PTFoMS, welcomed this development.
"Our government has made it top priority to capture the remaining suspects of the Ampautan Massacre. So far, six accused have been arrested through the dedicated efforts of our law enforcement agencies including the Task Force. Justice will prevail," Andanar said in a statement.
Undersecretary Joel Sy Egco, PTFoMS Executive Director, said the task force is relentless in monitoring the manhunt operations against the suspects still in hiding.
"Our government will not rest until all suspects behind this heinous crime are arrested. We are relentless in seeing to it that justice is meted to these perpetrators whatever it takes," Egco said in a news release on Sunday.
Singkala's arrest comes after an intensified nationwide manhunt for the remaining suspects as ordered by the Task Force to the Bangsamoro Autonomous Region Police Office.
The suspect was brought to Datu Saudi Ampatuan Municipal Police Station (MPS) for documentation and will be turned over to Parang MPS for safekeeping.
Egco earlier issued a directive to form Special Tracker Teams to hunt the remaining suspects during a virtual meeting with the officers of the Maguindanao province on March 1, 2021.
Joint elements of the local police served the warrant of arrest for several counts of murder issued by Judge Jocelyn Solis Reyes of Branch 221 of the Regional Trial Court (RTC) of Quezon City against the suspect.
On Dec. 19, 2019, Solis-Reyes convicted Datu Andal Ampatuan Jr. and Zaldy Ampatuan, the masterminds of the infamous Maguindanao Massacre, of 57 counts of murder and sentenced them to reclusion perpetua without parole.
A total of 28 other co-accused including police officers were also convicted of 57 counts of murder and sentenced to 40 years, while 15 other accused were sentenced to six to 10 years for being accessories to the crime.
Egco explained that the conviction was a product of the immense support given by President Rodrigo Roa Duterte to the victims of the massacre.
He clarified that the massacre happened during the time of President Gloria Arroyo and despite his numerous promises, no verdict happened during the time of President Benigno "Noynoy" Aquino. It was only through the political will of Duterte that justice was finally achieved.
Around 58 people, including 31 journalists and media workers, were killed on Nov. 23, 2009 while in a caravan to witness the filing of candidacy of then Buluan Vice Mayor Esmael Mangudadatu for the 2010 gubernatorial elections in Ampatuan, Maguindanao. (PR)