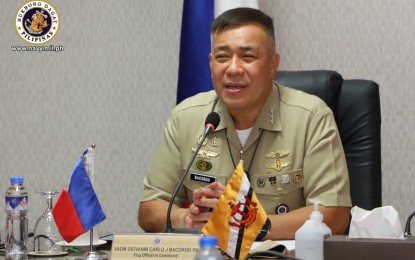 MANILA – The Philippine Navy (PN) on Monday said agreements with the country's strategic partners regarding rescue and assistance will be crafted once construction of the country's first-ever submarines is underway.
"It is planned that as soon as the Philippine submarines are being constructed, agreements will be negotiated with countries which have the capability for submarine rescue," said PN chief, Vice Adm. Giovanni Carlo Bacordo in a message to the Philippine News Agency.
Bacordo added that these agreements are not new as most submarine operating countries do not have a "distinct and independent rescue capability but rely on their strategic partners for assistance during distress".
"The 'submarine community' composed of different nations have a strong bond, mutual respect, and common understanding to help each other in times of crisis," he said.
While a submarine rescue capability is ideal, Bacordo said the financial capability of the Armed Forces of the Philippines (AFP) limits the acquisition.
"Submarine rescue capability is not yet included in the submarine warfare capability development of the PN," he added.
Earlier, Bacordo said having diesel-electric submarines in its inventory will allow the AFP to achieve a credible defense posture aside from enhancing the PN's maritime defense capabilities.
"We have desired force mix of submarines, frigates, corvettes, OPVs (offshore patrol vessels), LDs (landing docks), FAIC-Ms (fast attack interdiction craft-missiles), MPACs (multi-purpose attack craft), AAVs (amphibious assault vehicles) etc. This is embodied in our Naval Operating Concept submitted to HHQ (higher headquarters) in 2020," he added.
Under this plan, the PN plans to acquire six anti-air frigates, 12 anti-submarine corvettes, and three submarines along with other naval assets.
"This is the force-mix that will enable the AFP to achieve a credible defense," Bacordo said.
He also added that the acquisition and development of submarine warfare capability will better equip the Navy to fulfill its primary mandate on territorial defense, security, and stability.
"Submarines will enhance our maritime defense capability and can effectively carry out anti-access/area denial, maritime surveillance, maritime interdiction, intelligence, surveillance, and reconnaissance. The submarine is the most effective ISR (intelligence, surveillance, and reconnaissance) platform and the best killing machine in the Navy inventory," he added.
A submarine capability, he said, will provide deterrence against aggressors, credibility to the PN, international consideration of the Philippines, and recognition of the AFP from other armed forces.
"Submarines are undetectable and could be anywhere patrolling around the WPS (West Philippine Sea) to act firmly if necessary. Having an operational submarine at-sea will be a game-changer for the PN. Contenders will have to take into consideration the probability of facing a submarine at anytime, anywhere, without any warning, hence will affect their entire assessment of the tactical situation and their behavior," he added,
These submarines will be equipped with a large number of weapons.
"It can infiltrate an enemy task force to hunt aircraft carriers and landing docks, and provide decisive superiority with a single lethal hit," he added. (PNA)