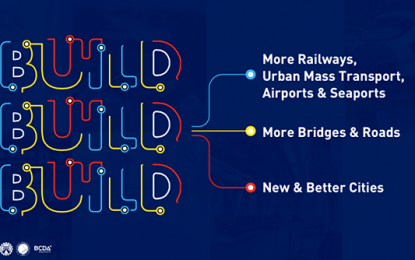 MANILA – Economic managers remain confident in a strong recovery for the Philippine economy this year, with health and safety protocols being implemented in various infrastructure project sites to ensure their timely completion.
During the virtual "Sulong Pilipinas: pre-SONA of the Economic Development and Infrastructure Cluster" forum on Monday, Department of Public Works and Highways (DPWH) Secretary Mark Villar said workers in the various infrastructure projects of the government need to follow social distancing measures, and are having regular testing and monitoring as part of the new normal.
"Early in the pandemic, we acknowledged the importance of the infrastructure, which is why we created these guidelines that would allow us to safely conduct our construction," he said.
Villar said construction work in all the ongoing projects is all systems go because of these measures.
"We're still pursuing our targets whether there's Covid (coronavirus) or none. And so, in other words, we're prepared for this new normal and we can expect that the 'Build, Build, Build' will continue as planned," he said.
The "Build, Build, Build" program is one of the Duterte administration's priority programs given the long-term impact of infrastructure projects on the economy's growth.
The government is investing around a trillion pesos annually to build various projects like roads, bridges, airports, and seaports nationwide.
It bids to increase government infrastructure investments to over 5 percent of the economy's annual output by the end of the Duterte administration, a feat given that infrastructure spending in the last five decades only accounts to around 2.5 percent of gross domestic product (GDP).
Economic managers remain optimistic for a 6.5-7.5 percent domestic output for this year, with Socioeconomic Planning Secretary Karl Kendrick Chua saying that the government still has eight months to address the negative impact of the enhanced community quarantine (ECQ) in the National Capital Region (NCR) Plus area.
He added the economy has been posting improvements since the start of the year before the ECQ implementation, and policies and situations in this year's ECQ is different from last year. (PNA)