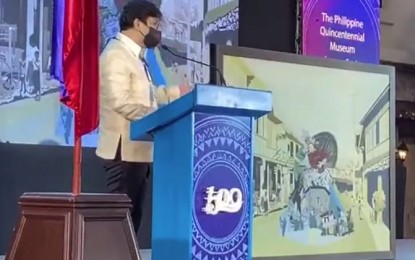 CEBU CITY – The National Quincentennial Committee (NQC) and the provincial government of Cebu opened on Monday the Philippine Quincentennial Museum at the Museo Sugbo in this capital city.
One of the guests, Presidential Spokesperson Harry Roque, in his speech, reiterated President Rodrigo Duterte's foreign policy "to be friends for everyone".
"Today, we celebrate the establishment of a museum that will serve as a testament to our 500 years of ties with our European brothers, the Spaniards. We don't celebrate colonialism because as I am sure that the Ambassador will appreciate that it was because of colonialism that we established the very first republic in Asia," Roque said.
Spanish Ambassador to the Philippines Jorge Moragas Sanchez, who was also in attendance, highlighted in his speech the long-standing friendship between the Philippines and Spain.
He underscored the fact that "many of the sources of our current knowledge comes from the archives in the Philippines and Spain".
Dr. Rene Escalante, NQC executive director, led the launching of the museum that commemorates the first contact of ancient Filipinos with the Europeans.
"On behalf of the National Historical Commission of the Philippines (NHCP), I extend my utmost gratitude to Cebu Gov. Gwen Garcia for hosting not only this event but to the new addition to your provincial museum, the Philippine Quincentennial Museum," he said.
Escalante, NHCP's current chairperson, said the museum is a "testament to the National Quincentennial Committee to correct the misconceptions that our ancestors were savages and barbaric".
The NQC originally proposed a "traveling exhibit" but because of the "impracticality of moving it from one place to another, we decided to make it a permanent exhibit" in Cebu, he said. "Through the Museo Sugbo, the Philippine Quincentennial Museum will now have a permanent home right here in the province of Cebu."
Escalante said the NQC also proposed two quincentennial museums – the Museum of Philippine Early History at the old Butuan City Hall and the Lapulapu Memorial Shrine and Museum at the Liberty Shrine on Mactan Island in Lapu-Lapu City.
However, the two projects were deferred "in the meantime" as the national government continues to fight against coronavirus disease 2019 (Covid-19), he said.
Meanwhile, Presidential Assistant for the Visayas Michael Lloyd Dino donated a "contemporary painting" that will tell the present generation which will "become the future's past".
In his speech, he recalled the directive of Duterte to adopt a Philippine-centric celebration of the country's role in the first circumnavigation of the world.
He also recalled the humanity and "malasakit" (compassion) of the Filipinos' ancestors in taking care of the European crew led by Ferdinand Magellan when they landed in Homonhon in Samar, as well as the bravery of Datu Lapulapu in the Battle of Mactan on April 27, 1521.
Garcia, for her part, thanked the NQC and the NHCP, saying "we accept this museum with gratitude and a responsibility for its care and enrichment".
The museum features two galleries, one showcasing the country's role in the Magellan-Elcano expedition that landed in the archipelago 500 years ago and the other highlighting the pre-colonial Philippines. (PNA)