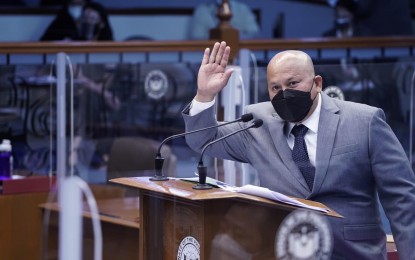 MANILA – Communist terrorist groups are the only ones that will benefit from the threat of defunding the National Task Force to End Local Communist Armed Conflict (NTF-ELCAC).
Senator Ronald "Bato" dela Rosa on Tuesday rejected calls for a zero-budget NTF-ELCAC in 2022 and to re-allocate its current funds for other purposes.
"A huge portion of the NTF-ELCAC's budget goes to the development of barangays cleared of insurgencies. Now if the government will retract this promised development when the people there have been waiting for it, what will likely happen? If that's the case, the people will consider to support the New People's Army (NPA) again. The communist terrorists will benefit," he said in a statement in Filipino.
The call to defund the NTF-ELCAC was triggered by the alleged red-tagging of community pantry organizers by task force spokesperson Lt. Gen. Antonio Parlade.
The PHP16.5-billion budget earmarked for NTF-ELCAC's Barangay Development Program goes directly to local government units.
"I do not agree with defunding the NTF. It is not right. We need to separate Parlade from the NTF-ELCAC, which is very effective in gaining grounds against the CPP-NPA-NDF (Communist Party of the Philippines-NPA-National Democratic Front)," the senator said.
On Saturday, Senator Panfilo Lacson suggested that the Committee on Finance look into how the task force has been spending its budget.
He said Congress has the power to defund the task force if the Department of National Defense continues to ignore the Senate's recommendation to remove Parlade as its spokesperson.
The NTF-ELCAC, created by virtue of Executive Order 70 issued on Dec. 4, 2018, is tasked to "provide an efficient mechanism and structure for the implementation of the whole-of-nation approach to aid in the realization of collective aspirations for inclusive and sustainable peace." (PNA)