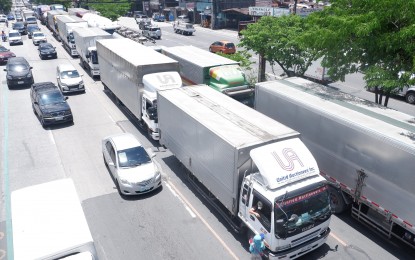 MANILA – A new joint memorandum circular (JMC) of the Anti-Red Tape Authority (ARTA), Department of the Interior and Local Government (DILG), and Department of Finance (DOF) is directing all local government units (LGUs) to stop collecting fees and taxes from vehicles transporting goods.
During the virtual signing ceremony Wednesday, ARTA director general Jeremiah Belgica said they issue JMC No. 2021-01 as they continue getting complaints on the imposition of pass-through fees by the LGUs despite prior rules and regulations prohibiting the collection of fees and taxes on the transport of goods and products.
The JMC covers "taxes, fees, and charges and other impositions upon goods carried into or out of, or passing through, the territorial jurisdictions of local government units in the guise of charges for wharfage, tolls for bridges or otherwise, sticker fee, discharging fee, delivery fee, market fee, toll fee, entry fee, and/or mayor's permit fee, or other taxes, fees, or charges in any form whatsoever upon such goods or merchandise".
DILG Secretary Eduardo Año said some 30 LGUs have ordinances still imposing taxes and fees on the transport of goods.
Under the new JMC, Año said these LGUs are directed to submit their ordinances relating to the imposition of tax and fee collections on the transport of goods for review.
He said no ordinances should be passed by LGUs regarding the collection of fees in the logistics sector.
"One good thing here, there's provision for sanction for violators," he said. "We can also ask the Ombudsman and even courts if we have to use (it) and there are bases for filing of cases against violators."
Truckers may file complaints to the government's 8888 hotline, or through ARTA's dedicated e-mail address for these concerns at
[email protected]
.
ARTA deputy director general Ernesto Perez said this initiative is part of the government's effort to improve the country's logistics sector.
"This JMC is not the end of our efforts to improve our logistics sector as we will continue to work on more initiatives to eliminate regulations that hamper the efficient transfer of goods across the country," Perez said.
The logistics sector is one of the five priority areas of ARTA's National Effort for the Harmonization of Efficient Measures of Inter-related Agencies (NEHEMIA) program, which aims to streamline and automate registration, payment, and issuance of licenses and permits in national government agencies and LGUs.
Earlier, Trade Secretary Ramon Lopez said logistics costs share 27 percent of the total operating cost, one of the highest rates in the region.
Through NEHEMIA, the government targets to bring down the logistics cost share to 15 percent.
Moreover, Belgica said suspending the illegal collection of taxes and fees for the transport of goods will help in lowering logistics costs. (PNA)